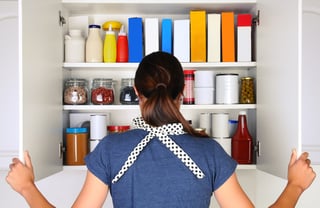 If you're in the retail business, you know that product storage can often be a challenge. While it's important to have items on display, you don't want to put all of your inventory on the shelves, because over-stocking looks cluttered and could increase the risk of theft. What's a good solution? Consider adding custom commercial cabinets. These allow you to be creative in designing showcases and other fixtures that do double-duty as storage areas.
Custom design provides four significant advantages:
1. Better organization
Even with a back room or warehouse, on-floor storage makes restocking easier so merchandise displays always look tempting.
Don't forget about your cash wrap/checkout counter. This is a workstation for your employees, and to be efficient, they need supplies such as wrapping materials, bags, staplers, etc. within easy reach. Plus, they need extra supplies to replenish impulse items you're promoting at checkout.
Custom-designed commercial cabinets create a truly unique, memorable cash wrap and help you provide the kind of final impression that caps off a great in-store experience.
2. Increased security
The right commercial cabinets can help protect against damage as well as shrinkage. Enclosed space protects items from theft, too. Often times retailers will add keyed or combination locks to their storage cabinets for further security.
3. Maximum design choices
From cabinets to integrated work stations to reception desks, Palmer Retail Solutions specializes in design and construction of custom commercial cabinets that are uniquely yours and built to last. You'll get quality detailing, right down to hinges and drawer glides that make smooth everyday tasks and edge trimmings that give your cabinets a professional "polish."
You aren't beholden to standard sizes, shapes, or materials, either, which means you can create cabinets that fit perfectly in every sense of the word. Do you want shelves or drawers for storage? Jewelry stores often use cabinets with storage drawers that can be rotated for display purposes. You can:
Add sliding or hinged doors to enclose cabinets, or leave shelves open for easiest access.

Face storage toward the sales floor or toward the rear, restricting access to employees behind the counter.

Boost the sales power of display sections with interior lighting, mirrored backs, etc.

Add heating or refrigeration if you're storing food products.
You can even design portable display/storage units that make rearranging your store a breeze without sacrificing right-at-hand inventory backup.
4. Memorable branding
Custom casework not only improves storage, it can improve the entire design of your store, making the most of your merchandising efforts and revealing your brand's personality. Creating a distinctive, cohesive look is essential to set your store apart from neighbors and competitors, and it establishes a sales-inspiring shopping environment.
The size of available space and the type of merchandise you sell determine how much storage you'll need and the cabinet design(s) that will be most efficient. With customization, your commercial cabinets will meet your practical needs and will help you achieve visual merchandising that looks "plentiful" without overcrowding displays or overwhelming customers.