7 Tips to Drive Sales with Point of Purchase Displays
In order to create point of purchase displays that really "POP," you have to think like your customer. Look at your store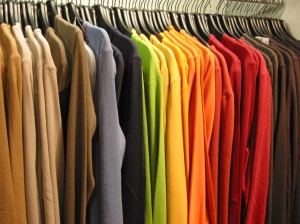 through their eyes. Who are they? What do they want and expect from their shopping experience? The most productive point of purchase displays drive sales by appealing to your customer's most basic psychological and/or physical needs:
Convenience

Comfort

Well-being

Safety

Financial security

Self-esteem

Self-actualization

Sense of belonging
How can you accomplish that? Consider these 7 tips to put some POP into your point of purchase displays:
Successful POP displays draw shoppers from a relative distance and encourage interaction up close. Placement influences their performance, as does where you place products within the display. For customers, easy access trumps tricky design. Remember that the average field of vision is about 120 degrees horizontally and about 50 degrees vertically, with a "sweet spot" that is generally between 3.5 and 4.5 feet off the floor.
Focus all the attention on your merchandise, allowing the products and packaging to speak for themselves. Don't let your display take over visually. Tell shoppers and show them with powerful images why your products are their best choice. Highlight benefits and how your brand stands out from the competition.
Boldness and brevity sell best. Use bold, easy-to-read fonts and high-contrast colors. Use images instead of text to tell your story. Your customers don't want to linger too long, so the harder you make it to grasp what your products are all about, the less likely shoppers are to stick with your display long enough to make a purchase.
Match branding in terms of images and colors. If you're running a special promotion for this merchandise, point of purchase displays should reflect that to reinforce the messaging and for immediate recognition.
It's crucial to consider your POP display as a total package that blends fixture and product seamlessly with great impact. Test different color combinations, visuals, or other customization details to learn what sells best. Try displays in-aisle, on end caps or side wings, or on shelves.
Add sound or motion, if they are appropriate for your products. But be aware that overdoing either one transforms your display from intriguing and fun to annoying and avoided. Industry experts suggest using motion or audio that are trigged by your customer.
Put them where they'll get noticed. So you can effectively put displays in-aisle, as end caps or side wings, on shelves, and especially leading up to your cash wrap – even on the counter, if the display is small and there is ample room. POP displays can be freestanding, table-toppers or shelf-mounted, but products should be at eye-level for maximum visibility and easy grab-and-go.

Think of them as "speed bumps." As shoppers browse and pick up items, well-placed POP displays can up-sell and cross-sell, by encouraging them to add related items or

calling their attention to items they may have missed

.

Samples offer two POP opportunities. Giving away tester-size packaged products lets customers try out new items for free, increasing the chance they'll buy the product, whether now or later. And the time-honored technique of "live" sampling of consumables such as food and fragrances tells shoppers right then and there that this is something they need to buy.
POP displays are popular in a wide variety of retail settings, because they're attractive, helpful, and allow shoppers to pursue self-help options. They can introduce your product, motivate shoppers to buy, and simplify the purchasing process. In today's technology-focused world, kiosks can incorporate QR codes, SMS texting, or website integration to further amplify the experience and enhance profitability.
If you're planning new point of purchase displays, get with your custom display manufacturer early. Even if you're a pro, they'll have sound advice and insight to make your project most creative, on-target, and cost-effective – tailored specifically for your spatial and sales needs.
Palmer Retail Solutions strives to offer our clients the absolute best combination of innovation, quality, service, and value for our diversified custom store fixtures and merchandising displays. For more information about our designs, retail fixtures, cash wraps, kiosks, or point of purchase displays, visit our website at: http://www.palmerretailsolutions.com.