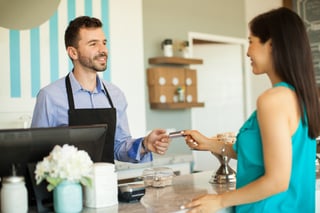 Ahhhh, those impulse purchases. Retailers are loving them more than ever, because shoppers are gravitating to them more than ever. Today's customers want to make last-minute, in-store decisions. And since your well-placed point of purchase merchandising helps them get what they want, everybody is a winner.
Point of purchase merchandising is both a science and an art. A profitable blend of psychology and aesthetics. Here are some best practices for POP merchandising:
It's not your mother's POP anymore
"Point of purchase" refers to the fact that these specialized displays were originally used at the checkout counter to drive last-minute impulse buys. Think candy bars, magazines, accessories, etc. Customers waiting in line and already primed to pay could easily spy and pick up a little something extra. The checkout or cash wrap area is still prime territory for POP displays, so you want to use it to maximum advantage.
Creative placement
Today's shoppers are waiting to make buying decisions until they're in-store – one study says up to 82% of those decisions. Each time a shopper chooses an item, that's a "point of sale." So, savvy retailers are using POP merchandising to promote products throughout the store. That gives you more opportunities to capture customer attention and boost sales.
Eye level matters, too. Remember that "point of purchase" can be that moment when your customer decides to buy a product, not just when they're paying for it. Put a basket of fun napkin rings amid your display of table linens. Batteries next to toys or electronics. A case stack of wine in your meat department or with your deli cheeses. Bundle, bundle, bundle.
You can use POP to encourage customers to try new brands as well as pick up impulse items. You can also change their minds about which products to buy.
Make it visible.
POP displays won't sell if they don't stand out. Bright colors, unusual shapes, strong graphics, and extra lighting all help draw your shopper's eye and encourage them to engage with the display.
Some retailers are working with vendors to design and execute point of purchase merchandising programs. These programs often combine pre-fabricated display units with specialized product packaging, in-store promotions, and/or advertising.
Carefully pick product selection.
You want shoppers to act impulsively, but you should not. Think carefully about what your customers are most likely to want – an upgraded version of something they need, accessories, complementary items, small-but-not-too-expensive luxuries.
Customization is key
Each POP display must be designed around the product. It must fit its location. But in order to catch your customer's eye in a visually chaotic environment, it needs more. It should have:
An unusual shape, bold colors, and font size that produce a can't-miss visual
Compelling text that instantly relates key benefits (not features)
A direct call to action – "try me" or "take one" for example
Better yet, make it interactive. Customers buy when they're physically and emotionally engaged, so give them a way to touch or use the display. Tear-off coupons, touchscreens, and sampling are good examples.
It can be particularly difficult to accomplish all this when you're creating POP displays for franchises or other multi-location retail environments. They have to be consistently branded yet work in a variety of physical settings. That presents unique challenges in terms of design, production, and shipping, as well as tracking display performance.
Fill a need
Shoppers visit your store because they need something. They may have something in mind, or they may be waiting for you to inspire them. It's important to learn all the principles of effective POP merchandising, but above all, you must understand the different types of shopper needs:
Convenience and comfort
Financial security
Esteem
Love and belonging
Safety and security
Self-actualization
Enjoyment
Knowing how your product appeals to shoppers allows you to connect with them emotionally as well as practically. So think like your customer as you design your display. Then look at it through their eyes. Does it make you want to buy?
Educate your customers
POP also has sales value beyond impulse buys. Customers need information to make choices, and that's where signage becomes important. This Casio display allows customers to interact with electronics and also tells them key benefits so they can compare items. If your POP display promotes clearance items, don't just say SALE. Tell them how much they'll save.
Pull your plan together with staff training.
You've created fabulous POP displays, placed them cleverly, and given them just the right motivational signage. The merchandise might sell itself, but why chance it? Training your sales people to suggestively sell will increase sales across the board, not only with point of purchase specials. They should be trained to recommend add-ons or upgrades. Have them draw customer attention to promoted and impulse items, especially at the cash register.
Track your results.
As with all your merchandise, tracking POP sales is vital. Learning what sells best – and from which location in your store – will help you create a better shopping experience for your customers. You'll sell more now, and they'll be back. So you can sell more then, too.
Reviewing these best practices as you plan upcoming in-store promotions will ensure your point of purchase merchandising is well-designed, well-placed and sales-worthy.