Tips for Loss Prevention During the Holiday Shopping Season
With the holiday shopping season well underway, are you doing everything you can to protect your store from theft?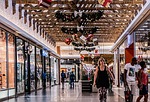 These days, loss prevention during Christmas includes electronic threats as well as traditional shoplifting, because some bad guys are looking to steal your data, not your merchandise. You may not get through the season entirely unscathed, but you can reduce your risks if you follow our tips for loss prevention during the holiday shopping season.
The Usual Suspects
Individual shoplifters come in all ages and appearances. They don't usually take much, and they usually take small items, but it can still add up. Arranging your displays to eliminate blind spots can help with loss prevention during Christmas and all year round.
Organized gangs usually go for bigger-ticket or trendy merchandise, and that hurts you in two ways – you lose the inventory and you're low or out of stock on your customers' most-coveted purchases, so you lose the sale, too.
Your Employees
It's a shame, but for many retailers the worst source of loss is their own employees. Aside from the temptation for some to simply help themselves to the merchandise or the till, a growing issue is employees teaming with friends to defraud their employers. They do that by ringing up only a portion of their friend's "purchases" or processing fraudulent returns for compatriots.
In stores with no-receipt-needed returns policies, employees have been known to take items off the rack and "return" them for cash.
Cyber-Theft
By protecting yourself from hacking and other electronic invasions, you are also protecting the privacy of your customers. If you don't do that and your security is breached, you could lose customers and your reputation as well as money. And it's not just the big retailers that have to worry.
"Wardriving" is the practice of driving around with a laptop looking for unsecured Wi-Fi signals. You're an easy target if your wireless network is unsecured or poorly protected.
An unattended computer on your sales floor or in the back room is also an easy target. An open USB port can be an open invitation to a hacker with a flash drive. Conversely, someone could quickly upload malware that will deliver data to them later, after they're gone.
Hand-held devices that your sales associates now rely on to serve customers better can be easily stolen, whether the thief is targeting the device itself, or the customer and store data it can access.
Is your POS system or Internet access controlled by the same network as your lights or HVAC system? You're leaving more doors open for would-be hackers.
Crowd control
Are you planning an event, or expecting a really big crowd? The mere presence of so many bodies facilitates theft, and crowds can get out of hand. The National Retail Federation offers a detailed crowd control strategy guide to plan your strategy.
It's not too late to take a Christmas security walk through your store and procedures to ensure you're doing everything possible to ensure loss prevention during Christmas.