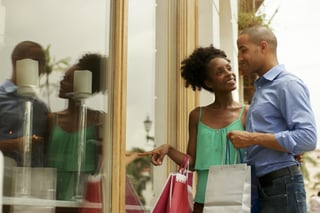 As a retailer, you know that purchasing is as much an emotional decision as it is practical. That goes for where we shop and what we buy, which means the way people feel shopping in your store is as important as what you sell. More important, really, because even the greatest merchandise won't entice customers if they don't anticipate an enjoyable retail experience.
And an enjoyable retail experience activates all five of our senses — sight, sound, touch, taste, and smell. A multi-sensory experience is the most engaging, and the most memorable. That's the store shoppers want to return to, again and again.
Want to ensure your customers have an enjoyable multi-sensory retail experience? Here are some tips to help you master the art of sense-based merchandising.
A Well-Lit and Tidy Store is Aesthetically Pleasing
Savvy retailers spend much of their time devising eye-catching displays and signage that take full advantage of color and design psychology. Remember, that lighting affects mood as well as highlighting products. And no matter what you sell — from groceries to jewelry, car parts to clothing — cleanliness and tidiness are key to a positive in-store experience. Walk your store to ensure it's easy to navigate. Consider customers in wheelchairs, those with strollers, or shopping cart. Is it still easy to navigate your store?
An Enjoyable Scent Creates a Welcoming Atmosphere
This is easy if you sell aromatic soaps, perfumes, coffees, candy, baked goods, scented candles, etc. Provide plenty of samples and/or testers, and actively encourage customers to help themselves. If the scent in your store is overpowering, find ways to neutralize it. In other types of stores, a pleasant scent such as vanilla can create an overall ambiance that encourages shoppers to relax and browse longer. Pick a signature scent that appeals to most people and soon, your customers will associate that smell with your store. Be cautious not to add too much scent, it can cause customers to leave quickly and question returning.
Background Music Sets the Mood
As a retailer, you're responsible for providing the soundtrack to your customer's shopping experience. Consider all your customers when selecting songs for your playlist and choose music that appeals to the masses. Upbeat tunes uplift customers, but too fast a tempo will have them rushing through your store.
Allow Your Customers to Touch and Try
It's most customer's instinct to touch things as they shop. It gives them a better idea of what the product is and whether they want to buy it. So, whether it's soothing lotion from a tester, small electronics that customers can try out, or simply the chance to pick things up to inspect them more closely, once customers touch a product, they are more likely to buy it. Make it easy to handle your merchandise.
Provide Taste Tests of Delicious Products
If you sell edibles, sampling is a must! Cooking demos sell, too, and they draw new customers into your store. Even if you don't sell food or beverages, offering hot chocolate in the winter or simply having a candy dish at the front counter can be a pleasant surprise for customers.
Use Sensory Cues to Direct Traffic
Store layout and displays help customers navigate. But so do other sensory cues. When someone enters your store, they usually head to the right. Make sure the first display customers see delights multiple senses to secure their engagement. If you offer fragrant hot coffee or product demonstrations, locate them farther back to draw people past your displays. Food samples? Place them in strategic locations where they, too, will draw attention.
Change It Up
Just as you regularly refresh your displays and other visuals, offering new aromas, sounds, and hands-on opportunities also keeps customers intrigued. One easy way to make your store ever-enticing is to incorporate seasonal sensory cues.
Determine how your store is currently appealing to your customer's senses. Then, consider how you can create a more appealing retail experience by making better use of sensory merchandising.