Psychology of Floor Fixtures & Wall Fixtures
Do you know people who just love to shop? Of course you do. You may be one of them. These are certainly people you want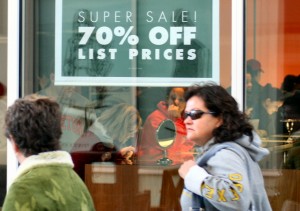 to come into your retail store. How you arrange your retail fixtures – both floor and wall fixtures – can turn your store into the preferred place to shop, even for those who don't rank shopping high on their entertainment list. Understanding the retail psychology of floor and wall fixtures will help you display merchandise effectively and drive sales from the moment customers enter to the time they check out.
Retail fixtures help you create an environment that is welcoming, inspiring and easy to navigate. With the right layout, your customers won't miss a thing – even that last-minute impulse purchase they had no idea they needed.
Create a layout that draws customers around the store.
You want customers to easily find what they came for, but you also want them to browse the rest of your merchandise, so you have to strike a balance. You can do that with the right arrangement of floor and wall fixtures, using visual merchandising around signage and lighting, to lead the way and highlight featured items.
Choose retail fixtures with your customers in mind.
There are myriad types of display options, from slat walls to mannequins, shelving to tables, not to mention display cases and racks to hang apparel. Which ones will be most attractive and functional for your store depends on the size of your space and the types of products you sell. Don't forget that today's shoppers love interactive opportunities, so incorporating video displays or kiosks can really boost your store's allure while helping you sell more.
Don't make people reach too high or have to reach too far into your display to pick items. It's inconvenient – and, therefore, a disincentive to examine items–and it's also a safety hazard. For most products, the ideal visual zone for customer-friendly fixtures is at eye level or somewhat higher.
Mix-and-match floor and wall fixtures are the most versatile.
Presenting shoppers with a fresh look every time they enter your store keeps them coming back, because it reminds them there is always something new to see and buy. What will be new today?
But retail fixtures are an investment, so choosing interchangeable items you can arrange in a variety of ways will give you a greater return on your investment as well as more display options. If you're still using the same retail fixtures you installed when you opened 10 years ago, you can bet your customers are as tired of seeing them as you are. Old says outdated – a word you never want associated with your store, no matter what you sell.
You might want to use a bona fide antique here and there for a featured display, but otherwise, modern-looking display units are best to underscore your fresh look. With the right choices and the right layout, your store will be The Place to Shop.