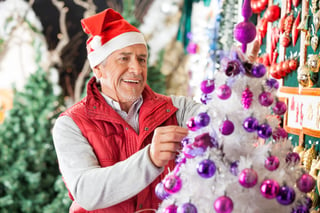 End cap displays aren't just for grocery and big box stores populated with gondolas as primary fixtures. You can create an end cap anywhere you have back-to-back displays. That makes them supremely versatile. End cap displays are also proven winners when it comes to boosting sales.
Since end caps always perform best when displays are changed frequently, they're ideal for seasonal and holiday promotions. The key is to create eye-catching displays that offer must-have merchandise or irresistible deals.
These tips will help you reap the greatest profit from your end caps during the holiday season:
What products are best? Those with higher profit margins, impulse items, and complementary products. Emphasize seasonal and holiday merchandise. Avoid very large items – if they sell as fast as you hope, and you don't have time to restock quickly, the display will look threadbare instead of sumptuously tempting.
Feature a single item you know will be super-popular.
Cross-sell. Display a popular toy with the batteries it will require, holiday candlesticks with pretty candles, or a couple of items that obviously go together, such as pants and sweaters. Don't include too many items, and especially do not include items that aren't obviously associated with one another. The result will look messy and it will confuse shoppers rather than encouraging browsing and buying. Customers should be able to glance at your end cap display and instantly grasp what it offers.
Create a deal-of-the-week end cap.
Think beyond shelving. Use an antique table to hold a pyramid of products, or red wagons on risers to hold piles of plush toys. Consider incorporating digital signage, video or interactive touchscreens. But be careful that your display and people standing in front of it do not to block traffic.
Tight space? Use efficient fixtures that rotate, or tiered racks and bins that make good use of vertical space.
Make sure every item on display is easy to reach.
Use simple, bold signage to alert shoppers to the end cap and product pricing. Whether you're featuring apparel or other soft goods in an open display, or packaged goods in rows on shelves, specialty lighting can enhance the end cap's overall visibility as well as the appeal of specific items.
Sample products shoppers may not be familiar with, but skip self-serve food in favor of a live attendant for sanitation and sales reasons.
End caps are excellent for quickly disposing of season-end merchandise. So use one or two to make a quick segue from Thanksgiving to Christmas, and later to give a fresh presence to slow-moving holiday gift items.
End cap displays make excellent use of space, even for tiny stores, giving displayed merchandise multi-directional visibility. Make sure your end caps are visible from multiple angles. And freshen them often. This encourages customers to keep returning to see what new goodies your store has to offer. Especially during the holidays, you don't want anyone to think shopping your store once is enough!
Palmer Retail Solutions strives to offer our clients the absolute best combination of innovation, quality, service, and value for our diversified custom store fixtures and merchandising displays. For more information about our designs, retail fixtures, cash wraps, kiosks, or point of purchase displays, visit our website at: http://www.palmerretailsolutions.com.