Layout to Help Stores Sell Jewelry
How you approach retail store layout depends on your merchandise and your desired clientele. For jewelry stores, you want to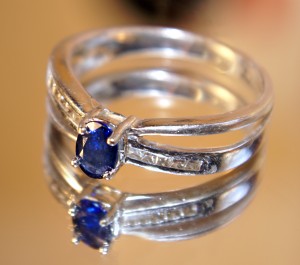 transform your space into a show-stopping jewelry showcase. After all, jewelry is all about adornment – and in many cases, ultimate luxury. Whether you're in a league with Tiffany's or an independent artisan, to create the right atmosphere, your store must have a layout and fixtures that focus the customer's attention on collections or individual pieces while allowing them to browse comfortably. You'll also need reliable – and, in some cases, obvious – security that protects staff and customers as well as merchandise.
Creating Pathways
Your goal is to use every square foot of sales space to best advantage, so you'll want to choose a floor plan that fits your store's size and shape, and matches your merchandise:
Straight
Diagonal
Geometric, including islands
Angular
As you consider layout and display options, think about:
Your location
Your clientele's age and lifestyle
Your range of products
You may want to feature certain brands or price point groupings. Higher-priced jewelry may require enclosed display cases, whereas lesser-priced items will show best where customers can pick them up, handle them, and try them on without sales staff assistance.
Raise your counters to 42 inches. Jewelry is smaller than sweaters, and customers are anxious to see the fine detailing of your merchandise. There's a benefit here for your sales staff, too, because when a customer is bent over too far, you cannot see their eyes. Choosing jewelry is an intensely personal, emotional experience, so it's important to see customer reactions to interact well with them.
If this is your first retail venture, you may feel overwhelmed at the prospect of designing a store layout that feels welcoming and motivates sales. Check out this step-by-step guide to planning your store layout.
Beyond the Merchandise
Security is paramount for jewelry stores. You may want an alarm system, cameras, and a safe or larger vault. Industry experts recommend asking advice from an expert in jewelry retail security as well as your insurance agent when planning your layout and security arrangements.
Very high-end stores often use security guards at the entrance, whether or not they are actually responsible for unlocking the door and admit customers. If you have live security, remember they are also part of your sales staff – their demeanor can encourage shoppers to enter and browse or make them feel uncomfortable.
Effective store layout also includes efficient behind-the-scenes space for office work and inventory storage.
Even if your store has been a local icon for generations, think "fresh" when it comes to layout, because quality is always in fashion for a jewelry showcase, but stodgy does not sell. Customers expect an interior that highlights the newest designs as well as traditional favorites.
Palmer Retail Solutions strives to offer our clients the absolute best combination of innovation, quality, service, and value for our diversified custom store fixtures and merchandising displays. For more information about our designs, retail fixtures, cash wraps, kiosks, or point of purchase displays, visit our website at: http://www.palmerretailsolutions.com.