Fixtures Set The Stage for In-Store Experience
Nowhere is visual merchandising more important than in a clothing store. It's so important that we've created a three-part blog series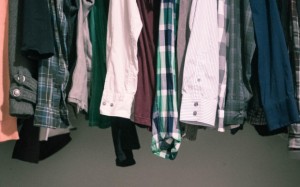 focused entirely on how you can fashion displays to draw shoppers into your store and encourage them to browse and buy. In this first installment, we'll look at the underpinnings – layout and fixtures for fashion apparel.
Your store's physical layout and the fixtures you choose literally set the stage for your customer's in-store experience. Fill your displays with irresistible articles of clothing and accessories, and you're ready to watch your business take off.
The Layout
Window displays grab attention and impart a sense of who you are as a clothing retailer – perhaps a large department store or discounter, or a sophisticated or trendy boutique.
An open, welcoming entry space gives shoppers room to transition inside. This is where layout and fixtures for fashion apparel start to build sales. Display something especially tempting nearby to draw people further into the store, but don't block their broader view of your interior.
Shoppers tend to head toward the right first, and very generally, travel around your store in a clockwise direction. But there are several ways you can arrange your display units to make sure customers see and visit all of your merchandise. Store layouts such as geometric floor plans are good for apparel stores of all types, and they're easily adaptable to your store's size and shape.
Bear in mind that men tend to prefer a linear design, with straight aisles. Women like to wander around. Everyone feels more comfortable if they can get close to items without feeling crowded by other shoppers.
There are pros and cons to any layout. Most importantly, you should choose a floor plan that blends with your type of merchandise. For instance, high-end boutiques often take a minimalist approach rather than the crowded-with-goodies feel of an outlet store.
The Fixtures
Fashion apparel and accessories can be folded and stacked on tables or shelves, displayed on free-standing or wall-mounted racks with hangers, in jewelry cases, on slat walls or grid walls, and on mannequins.
You can buy pre-made fixtures to arrange in different groupings, or custom-design display units that incorporate your brand colors and logo and fit your space and style perfectly. You can use rounders, gondolas, super-quads, bins, or "found" items that add visual interest as part of a featured display, or as props throughout your store.
Mid-store fixtures that are slightly below shoulder height (or lower) make it easy for customers to see multiple display areas, and easy for you to keep an eye on things.
Your objective in choosing a layout and fixtures for fashion apparel is to entice shoppers to step inside and circulate, and entice them to buy. Floor space and wall space both offer numerous opportunities to attractively and effectively highlight your merchandise, make customers comfortable, and lead them around your store.
In our next article about fashion apparel merchandising, we'll examine the most effective ways to set up your walls.

Palmer Retail Solutions strives to offer our clients the absolute best combination of innovation, quality, service, and value for our diversified custom store fixtures and merchandising displays. For more information about our designs, retail fixtures, cash wraps, kiosks, or point of purchase displays, visit our website at: http://www.palmerretailsolutions.com.