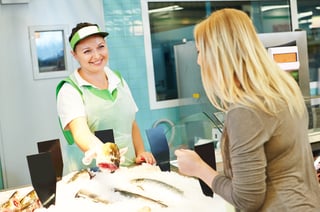 Operating a successful mall kiosk takes a lot of work, but you shouldn't have to reinvent the wheel. Many retailers are already succeeding in this industry, so what can we learn from them? Here are some secrets from the most successful mall kiosk ideas to inspire you and your business.
Most Successful Products to Sell
In the past, mall kiosks were often found in low-end markets. But today, kiosks are flourishing in upscale markets, too. Of course, you can't sell just anything at your kiosk and expect it to succeed. So, what performs best at a mall kiosk?
Snacks — pretzels, chocolates, popcorn, donuts

Apparel — shirts, sweaters

Gifts — personalized items, handmade products, pet items, artwork

Eyewear — sunglasses

Accessories — purses, scarves, watches, jewelry

Electronics — cell phones, cell phone accessories, tablets, fitness trackers

Beauty products — skincare products, makeup, flat irons, curling irons
The Secrets are in the Way You Sell
There's more to kiosk success than just picking a product you like. The secrets to making the right choices and making a profit lie in the way you sell. Here's what you need to know.
1. Set Yourself Apart
Traditional stores carry many items, but not many choices for each product type. Your mall kiosk will be most successful if you do the opposite — choose a single product type (or very limited range) and go deep in terms of selection. For example, if you choose to sell purses, offer different styles, colors, sizes, etc. This immediately sets your kiosk apart from other sellers. Offering a wide variety of the same or similar products increases the chances of a customer getting exactly what they're looking for. And what customer wouldn't want that?
2. Offer Products People Want to Buy
In order for your mall kiosk to be successful, a lot of people have to want to buy your products. That means you need to appeal to a large crowd rather than a small niche. Instead of selling Hello Kitty themed iPhone cases which will likely only appeal to pre-teens who have an iPhone, sell all types of cell phone cases for every type of phone on the market. You can see how one business would be more successful than the other.
3. Sell a Product People Can Engage With
Customers love to test, sample, and touch products before buying them. And once they do any of the previously stated things, they're more likely to buy it. So, it's a no-brainer. Offer products that provide a hands-on opportunity of some kind.
4. Stick to Products $30 or Less
Kiosk shoppers are impulse buyers, but they're much less likely to buy a $100 product on a whim than a $30 or $15 item. So, avoid high-end ideas in favor of items that cost less than $30. Having said that, evaluate your product "finalists" carefully to be sure you can make a profit as well as cover your rent and other costs. There's no point in selling a $15 product if you don't make a profit.
5. Sell Quality Products
Gone are the days when mall kiosks sold cheap trinkets. Product quality determines your reputation. So, don't shortchange shoppers or yourself. After all, mall kiosk ideas should help your business grow.
So, what are you waiting for? Start dreaming up your business plan for a successful mall kiosk. You're off to the right start.
Palmer Retail Solutions strives to offer our clients the absolute best combination of innovation, quality, service, and value for our diversified custom store fixtures and merchandising displays. For more information about our designs, retail fixtures, cash wraps, kiosks, or point of purchase displays, visit our website at: http://www.palmerretailsolutions.com.