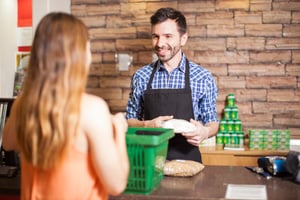 Deciding on the best location for your cash wrap counter is one of the most important decisions you'll make as a retailer. You want to ensure cash wraps are conveniently located and easy to find, whether you have just one or several throughout your store. But you don't want to give up your most valuable sales space. So, where is the best location?
Typically, the best location for your cash wrap is 12–20 feet inside the exit to the left. Of course, the exact location depends on a number of factors. Here are five things to consider when choosing the best location for your cash wrap and the best way to configure it.
Shopper Psychology
American shoppers will turn to the right after entering your store, so it's critical to show them tempting merchandise right away to bring them farther into your aisles. They are just beginning their browsing and buying journey, so this is no place for a cash wrap that says "finished." Once inside, shoppers generally circulate counter-clockwise, winding up on the left, which is why a cash wrap conveniently placed to the left of the exit is ideal for many stores. Here's a great 2022 study related to impulse buying.
Space Available
In addition to fitting logically into your overall store layout, the best location for your cash wrap may depend on the design you choose. Or, conversely, the design you choose may depend on the amount of space you have available for your cash wrap. You can go with a single counter, an L-shape, or a U-shape. If there is a wall behind your cash wrap, you can use that space as well.
Consider your customers. The Americans with Disabilities Act requires you to provide certain minimum space to accommodate wheelchairs. Your counter must be at least 36 inches long and no more than 36 inches high. (If it's higher, you must provide a pull-out shelf at the lower height.) Leave at least 30-40 inches in front. Make sure there's enough counter space for all customers to comfortably set down their purse and purchases. If they feel squeezed, they may think they've chosen too many items and decide to put some back.
Consider your staff — the moves they need to make and the supplies they need to check out customers. Cash wraps need storage space for pens, staplers, bags, and wrapping paper. Allow about three feet of workspace behind the counter.
The Check-Out Process
Above all else, cash wraps are where customers pay for their purchases. You'll need room for your POS system as well as open counter space. Will you need more than one POS station at your cash wrap? Will you need to add POS stations here or elsewhere in your store to accommodate the busiest sales periods? Be sure to leave room for that!
Merchandising
Smart retailers know they can significantly increase revenue by cleverly merchandising their cash wrap area. Customers are primed to purchase at this point. You can prompt them to pick up just one more thing — or two, or three — by displaying accessories or impulse items where they are easy to see.
Lighting
Think about how you can light your cash wrap. Even the ideal location requires good overhead illumination, task lighting, and accent lights for impulse items or important signage. Energy efficient lighting and signage are especially useful in helping customers find cash wrap counters that are sprinkled throughout your store.
Your cash wrap counter is the final step in your shopper's journey — the last thing they see — so it has to leave them savoring a positive experience. Properly located and designed, it can leave you with additional revenue, too.


Palmer Retail Solutions strives to offer our clients the absolute best combination of innovation, quality, service, and value for our diversified custom store fixtures and merchandising displays. For more information about our designs, retail fixtures, cash wraps, kiosks, or point of purchase displays, visit our website at: http://www.palmerretailsolutions.com.