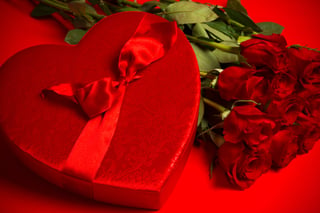 Whatever you display in the way of Valentine's Day merchandise, be sure you have plenty in stock. This is the shopping holiday most famous for last-minute shopping. Even the most gloriously decorated store windows and fixtures can't do their magic if displays feature picked over offerings and all your hottest items are out of stock. But take heart – after all, we're talking Valentine's Day here.
You can choose fabulous Valentine's Day merchandise that will sell smartly right now and continue to charm even the latest of last-minute shoppers. Focus on your end cap displays to take advantage of their natural visual appeal. Using end cap displays will also help customers distinguish Valentine's goodies from your regular merchandise.
What should you do with your end caps?
Valentine's Day is our most sensual holiday, so make sure your visual merchandising tempts multiple senses. That starts by inspecting your end caps to be sure they're display-ready. Then fill them with a variety of items that appeal to all segments and age groups among your clientele. Remember that people buy Valentine's gifts for friends and family members, not just that Special Someone.
Use color for greatest impact. Filling an end cap with merchandise that's all one color creates a can't-miss visual. Traditional red or pink speaks for itself, but why not be more original if that would appeal more to your clientele? Or create a candy-colorful display with an array of sweaters, soaps, etc.
Offer items in a wide price range, but definitely feature high-end items. When love is in the air, customers often want to splurge.
Cross-sell related items in a single display – wines, wine glasses and wine charms, or candles and candleholders, apparel or table-setting ensembles. Busy customers will buy more if they don't have to hunt down multiple items.
You don't have to be a diamond store to promote jewelry and accessories for Valentine's Day. Necklaces, earrings, bracelets, and scarves all make great impulse or add-on items.
Don't forget men! Women want to "gift" their guys, too. (Besides, choose strategically, and your last-minute male customers may pick up gifts for themselves, too.)
Nothing says "sold" like pre-wrapped merchandise, especially for harried or last-minute customers. Display popular items next to stacks or rows of grab-and-go wrapped ones, and they'll fly off your end cap shelves. Display pre-assembled gift baskets in different sizes. Like smaller individually wrapped items, these say "beautiful and easy" to shoppers.
Or create a build-your-own gift center. Put baskets with nesting material on lower shelves and display a variety of fragrances, bath salts or other personal items – or chocolates, coffees, and teas – customers can use to fill them. Have pretty plastic wrap and ribbon ready at your checkout counter to add the finishing touch.
Stock a bowl of sweetheart roses at your cash wrap, and give one to each last-minute customer. Whether they pass it along to their Valentine (thankful that you, at least, remembered flowers!) or keep it for themselves, you're sure to win a smile.
Palmer Retail Solutions strives to offer our clients the absolute best combination of innovation, quality, service, and value for our diversified custom store fixtures and merchandising displays. For more information about our designs, retail fixtures, cash wraps, kiosks, or point of purchase displays, visit our website at: http://www.palmerretailsolutions.com.