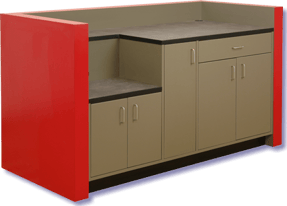 The cash wrap counter – or "check-out counter" in the minds of your customers – is one of the most important elements within your store. Even though it's the last stop for shoppers, it can make or break their positive experience, serving as a point of sale as well as a point of purchase. How you configure cash wraps and where you place them requires some smart psychology on your part.
Cash wraps send several messages to customers.
They should be attractive, easy to find and convenient for both customers and employees to use. Studies show most customers head to the right when entering a store, so locating your cash wrap counter to the left, but not right inside the entrance, enables shoppers to circle through your merchandise displays and arrive at the counter on their way out.
Depending on your store's layout, another location may be more appropriate, but you certainly don't want to give up your most valuable merchandising real estate for the cash wrap area.
If your store is a square shape, centering the cash wrap might work well, unless security considerations indicate it should be closer to the entrance/exit. And, of course, very large stores often have multiple counters strategically located throughout the shopping area.
Cash wrap counters should offer plenty of space. Customers will need enough room to comfortably:
Set down their items, even if they have an armload.

Write a check or sign a credit card slip. If you use a card reader, it should be within easy reach. The Americans with Disabilities Act requires some stores to offer a writing surface between 28-30 inches high, but you can accommodate this with a pull-out shelf or by offering a portable writing surface.
Sales staff need enough room to:
Position computers, cash registers or other relevant equipment or tools, and add equipment to accommodate shoppers quickly during busiest periods.

Efficiently scan and wrap items. Often cash wraps have a separate counter space for wrapping and packaging merchandise.
Clutter says you're disorganized. Shoppers might wonder if you'll makes mistakes ringing up their purchases or if their items will get dirty. It's good to encourage a little last-minute purchase by displaying high impulse items on or adjacent to the counter, but keep it to a minimum, so it doesn't intrude on your usable space.
Choose cash wraps that enable you to hide electrical cords, etc. that look messy and could cause an accident. Many cash wrap fixtures also include shelves for returned merchandise, wrapping materials, and drawers to house pens, staplers and other small items. Keeping drawers closed and adding cabinet doors that hide storage shelves make cash wraps look more professional.
Visuals are a major factor in creating a wonderful customer experience.
Cash wraps should incorporate the same design and materials as your other store fixtures. Display your logo or store name on customer-facing sides, to reinforce your branding.
Lighting affects the functionality and appearance of cash wraps. In addition to general overhead lighting, you may want to add task lighting specifically for counter workspaces or small spotlights to draw attention to impulse item displays.
No matter how much or how little interaction your sales people have with customers as they're shopping, you always have personal interaction at the moment of purchase. Properly thought-out and attractively designed cash wraps will send each customer out the door with a positive experience that will encourage them to come back soon.
Palmer Retail Solutions strives to offer our clients the absolute best combination of innovation, quality, service, and value for our diversified custom store fixtures and merchandising displays. For more information about our designs, retail fixtures, cash wraps, kiosks, or point of purchase displays, visit our website at http://www.palmerretailsolutions.com.