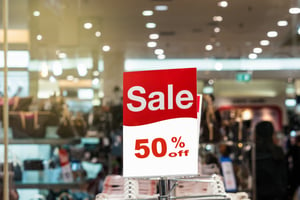 In the retail industry, you hope to sell all your merchandise at full price, but that isn't the reality. Inevitably, you'll have items that linger, destined for the clearance area. Your job is to move that clearance inventory to make room for new products.
Here are some proven ways to showcase your clearance items.
Provide Money-Conscious Shoppers a Reason to Buy
Clearance items are not junk. They give budget-conscious customers a chance to "buy up" at an affordable price. They give bargain-hunters a chance to discover fabulous finds. They give you yet another great reason to invite new and repeat shoppers into your store. Merchandising matters here as well as in the rest of your store.
Don't Wait Until the Appeal is Lost
Unload non-performers while they still offer some seasonal interest. The longer you wait, the more out-of-date, and less desirable, merchandise becomes. Saying goodbye to poky sellers in a timely manner means you won't have to discount them as much.
Location, Location, Location
Some say you should locate your clearance rack at the back of your store, so shoppers have to walk by all your new inventory to get to it. Others say you shouldn't be afraid to put it toward the front. After all, it could draw customers into your store. And you want to sell these items fast.
That said, there is no rule that says all your clearance merchandise has to be all in one place. It might sell faster (and encourage additional purchases) displayed next to related new items.
Don't forget to place small clearance items at the checkout counter. It's the perfect location for impulse purchases.
Group Related Items
Display all your sale T-shirts together, but separate them by size and color. Or create a sale display that cross-sells shirts on the top rack, then shorts and long pants on shelves below.
Price to Sell
Offer an inspiring discount right off the bat — say 30%. If that's not motivating enough, increase the discount weekly.
Bundle items to add appeal. Everyone loves BOGO (something is FREE!). If you're stuck with a lot of small items such as socks, try "buy 3, get 2" to kick things up a notch. Some items work well as a "giveaway" with certain full price merchandise, too.
Deeply discount highly seasonal merchandise such as themed decorations immediately to get it out the door fast.
Use Big, Bold, Specific Signage
Hang a clearance sign above your sale area, so shoppers can see it across the store. Then, put eye-level signs near the racks or displays.
Use red, the color we instinctively stop for. Red not only grabs our attention emotionally, in the vast majority of stores it will stand out blatantly from the branded colors that decorate your space.
In addition to general "clearance" or "sale" signs, use bold signs that get to the price point. You want to make it easy for shoppers to say yes, but experts disagree on the best way to do that. Some believe signs should say "40% off" because bargain-hunters want to know how much they are saving. But using a percentage means shoppers will have to work harder to mentally compute the prices. So, maybe it's better if signs say "$25." That decision is up to you.
Promote Sales via Email and Social Media
You don't have to wait for walk-ins to notice your clearance merchandise, you can invite shoppers to come in, browse, and take advantage of your great deals. Social posts and customer emails are perfect for promoting specific sale events, too, either storewide or department-specific. Why not create a "bring a friend" event that offers an additional discount for tagalong guests?
Be Realistic, Be Ruthless
Every retailer makes the occasional buying mistake, but allowing those mistakes to languish gives the impression your entire store is outdated. If it's not selling, it's taking up valuable space where new, full-price items could be displayed instead. It has to go. Your bottom line is at stake here, and so is your store's brand.