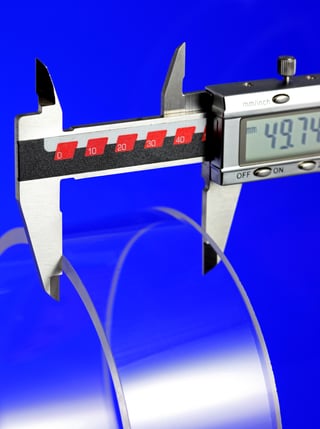 We're all familiar with acrylic, even if most of us don't know it's a thermoplastic polymer formed by giant carbon molecules. Your computer screen is likely made of acrylic. Or your faux fingernails, too. Your car's rear-view mirror is also acrylic, including the reflective surface. For retailers, though, acrylic fabrication can go far beyond the everyday, helping create functional yet aesthetically inventive fixtures. Acrylic is manufactured in sheets that resemble glass, offering all the wonderful characteristics of glass without the fragility. Here are the top 5 reasons to use acrylic fabrication:
Outstanding strength and durability.
Acrylic may not be literally as tough as nails, but it's no slouch – about half the weight of glass but 10 times as strong. And with an anti-scratch coating, surfaces remain smooth and clear. That makes acrylic a good choice even for countertops or other fixtures where wear-and-tear might otherwise be a problem.
Beautiful aesthetic options.
Like glass, acrylic has exceptional clarity and shine, whether it's transparent, translucent or completely opaque. It can be mirrored, on one or both sides, even including patterns, colors or a see-through appearance. It can be colored or tinted, either to match your store decor or to create a snazzy contrasting fixture to display your newest product line. Typically it comes with a 10-year warranty that guarantees against yellowing. Special coatings can also protect against fogging, reduce glare or reflect solar heat.
Temperature-friendly.
Acrylic won't let you down when it's hot or cold, unfazed by temperatures between -30°F and 160°F. It's also highly weather-resistant, so it can be a superior choice for outdoor kiosks or other types of displays.
Pliability.
As a thermoplastic, acrylic does soften under extreme heat, which means it's easy to mold into any shape you can dream up.
Easy fabrication.
Acrylic can be cut or machined using anything from a table saw or router to a plastic cutter, and structures can be assembled with screws or bolts, adhesives or ultrasonic welding. You could make your own acrylic display units, but then you'll miss out on the creative insight and superior workmanship that come with professional design and production.
In short, acrylic is the go-to material when you're looking for versatility. "If you can cut and fold a paper to create a shape, you can do the same thing with acrylic," notes Jim Palmer of Palmer Retail Solutions, "with virtually no upfront design or tooling or engineering cost."
What does this mean to you?
Versatility means you can design retail display fixtures and accessories and even props that are entirely unique to your store. Since differentiation is critical for retail success, it's really not possible to understate the value of acrylic fabrication. Acrylic is ideal for fabricating everything from nail polish to jewelry displays, imaginative soda pop dispensers, attention-grabbing window displays and more:
Point-of-purchase
Larger fixtures
Secure cases
Signs
Props
Lighting
And since it's comparatively affordable, even small retail shops with limited budgets can take advantage of acrylic fabrication to set themselves apart and wow their customers.
Palmer Retail Solutions strives to offer our clients the absolute best combination of innovation, quality, service, and value for our diversified custom store fixtures and merchandising displays. For more information about our designs, retail fixtures, cash wraps, kiosks, or point of purchase displays, visit our website at: http://www.palmerretailsolutions.com.