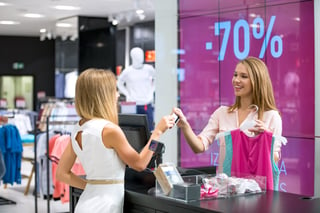 Traditionally, we think of the checkout counter as the "point of purchase," and it certainly is that. But today's retailers think more broadly about sales opportunities. Shoppers make buying decisions throughout the store, as they're browsing and examining merchandise, not merely after they reach the cash register. With that in mind, you need point of purchase (POP) displays that speak to customers.
But not just any displays. Point of purchase displays must compel attention from customers, but "hey, over here, look at me!" isn't enough. They have to say, "pick me, pick me!" when shoppers draw close to examine the merchandise.
The following three ideas will help you transform your POP displays to become irresistibly eye-catching and have powerful impulse appeal.
#1: Customize your display fixtures
You might be able to build a killer display on a generic foundation, but you're wasting an opportunity. Every detail has to set your store apart from the competition. No matter how great your products, well-chosen and properly coordinated POP display fixtures make your merchandise more attractive. POP displays can be free-standing, but often they're smaller, wall-mounted units or designed for countertop presentation. Custom design can be tailored to available space as well as specific products.
If you're in a hurry or on a tight budget, you can customize stock display fixtures in numerous ways that provide stronger branding and greater visibility. Fresh colors, signage, and lighting can also breathe new life into your existing fixtures. Better yet, talk with a custom display expert about ways you might use acrylic or other materials to upgrade your displays or give them an entirely new look.
#2: Don't neglect the basics
While fixtures set the stage, you still need to follow proven visual merchandising techniques if you expect to inspire sales. For instance, the common wisdom suggests you refresh displays at least monthly. But changing up POP offerings frequently will keep things interesting, even for repeat customers. A basket of two-for-one items will clear out much faster on your checkout counter than on some sale shelf elsewhere.
Which brings up another must-have: properly chosen POP products. Think small — items that are easy to grab and inexpensive enough that shoppers don't think twice. In addition to BOGO-type discounted items, you can transform your displays into big sellers if you focus on accessories, easily forgotten necessities, gift cards, and snacks. To boost future sales, offer samples as POP giveaways.
#3: Give 'em a big finish at your cash wrap
Yes, your cash wrap remains the number one location for point of purchase displays. It's your final chance to encourage upsells and add-ons. You have to make the most of every square inch and every moment you're face-to-face with each customer. In our next article, we'll explore ideas on how to transform your checkout counter into one of your top-performing "departments."
Meanwhile, remember that 82% of purchasing decisions are made in-store. There's no question that the effort you make to transform your POP displays will pay off in ways that will transform your bottom line.