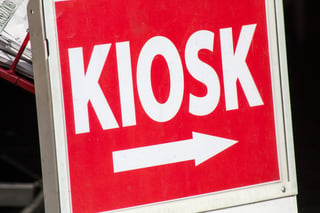 It's easy to assume that everyone who steps inside your retail store is ready to make a purchase. But that's not necessarily the case. We've all heard "just browsing" when asking shoppers if they need assistance, right? These people are in some earlier stage of their decision-making process, and they simply aren't ready to talk to a salesperson. Still, there is a less threatening way to help them. Adding interactive kiosks to your in-store merchandising can maintain the connection with customers and help propel them toward buyer readiness.
There are six stages in the buyer readiness journey:
1. Awareness of your store. Marketing accomplishes this, generating foot traffic.
2. Learning about your products. Once customers enter your store, they can explore everything you have to offer.
3. Liking your store. Emotional connection is a powerful sales tool. It also builds loyalty. This is why it's essential to provide a comprehensively excellent customer experience.
4. Identifying preferences. As customers browse and interact with merchandise, they are beginning to zero in on potential purchases. They may have lots of questions. Shoppers not only want more information about your merchandise, they want to try things on — or try them out — before they buy.
5. Customers are now convinced they're in the right place. You have what they want, and they want to buy from you.
6. They're ready to buy. You've made the sale!
Interactive kiosks support every in-store buyer readiness stage.
Any type of kiosk can display information or signage. Interactive kiosks give today's customers the hands-on experience they crave. Tech-savvy shoppers now expect retailers to provide these options, but interactive displays appeal to a wide range of customers.
Use them to advertise new arrivals and featured products or special promotions.

Kiosks offer easy, self-serve information gathering. Even the most determined customer doesn't want to stand around in your store, waiting to ask a question or pay for their purchases. At a kiosk, shoppers can peruse your entire product catalog or choose components to assemble their own products. One luxury auto brand now provides kiosks in its dealer showrooms, so customers can personally customize their new cars.

You can take that a step further. One retailer combines touchscreens with physical shoes and fabric swatches to help shoppers make choices. Another uses a touchscreen-plus-iPad set up to survey customers while the screen shows the right makeup choice for their skin.

Customers can use kiosk technology to sign up for your email list and rewards program, check their rewards status, or use their smartphones to redeem special offers.

Customers can place menu orders at a kiosk or order merchandise not available in-store, directing delivery to their homes or to the store for pick-up.

You can even facilitate checkout and payment with interactive kiosks.
Interactive kiosks also increase sales staff productivity.
Shoppers who aren't ready to interact with a live sales associate can help themselves to information and "play around" with some types of products at a kiosk. No pressure. Meanwhile, human sales associates are free to spend more one-on-one time with people who aren't comfortable with the kiosk or who want specific advice and recommendations.
Every type of customer — no matter where they are on the buyer readiness scale — gets exactly what they need. Talk about a great experience!