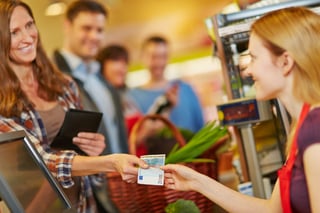 There is no universally perfect location for a cash counter, simply because retail stores are different. Merchandise is different and the size and shape of your space are different. Nonetheless, there are some universal truths about placement of cash counters that you can use to optimize holiday sales.

Tempting as it may be to put your checkout counter right at the entrance for security or shopper greeting purposes, it's important to remember that the space just inside your door serves as a "decompression zone" for shoppers. It allows them to transition from outside to your interior, taking a look around before starting to shop in earnest. You don't want to put up a barrier here.

Not on the right, either.

The area just to the right of your entrance is prime merchandising territory because American shoppers typically head to the right and move through your store in a counter-clockwise direction. It's a bottom-line mistake to put your cash counter where you could be making sales and drawing shoppers farther inside.

On the other hand, whether your store is laid out in a grid pattern, as a lazy loop around the store or it allows for free-flow browsing, ultimately shoppers wind up back at the entrance, because it's also the exit. For most retailers, the best location for the cash wrap is indeed near the entrance, but to the left and at least 15 feet back so it doesn't crowd your decompression zone.

For the holidays, set up a separate location for merchandise returns, so this process doesn't interfere with the flow (or the "vibe") of your cash counter. But don't neglect the opportunity to place suggestive-selling displays within easy sight of those waiting in line to process their returns. You don't want them to leave your store empty-handed.

From the first impression created by your window to smart, strategic displays storewide, optimizing holiday sales concludes at your cash counter.
It's a matter of psychology.
By the time customers arrive at your cash wrap, they are already in the process of buying, so this is your chance to help them add another item – or several– to their selections. They can pick up that last unexpected goodie or snare an overlooked necessity – if you've merchandised your cash wrap effectively.
Make sure your counter is spacious enough to hold a display of gift cards or gift certificates as well as allow customers to comfortably set down their purses and purchases. Make the most of wall space behind the counter to display last-minute gifts and other impulse items.
Just as your store's first impression is crucial to draw shoppers, your cash counter leaves a last – and lasting – impression. So now that you've selected the ideal location for it and thought about ways to turn it into a revenue-generator, watch for our upcoming article with tips for making your cash wrap more efficient, too.
Palmer Retail Solutions strives to offer our clients the absolute best combination of innovation, quality, service, and value for our diversified custom store fixtures and merchandising displays. For more information about our designs, retail fixtures, cash wraps, kiosks, or point of purchase displays, visit our website at: http://www.palmerretailsolutions.com.