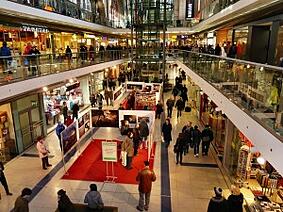 LED light boxes can be a simple solution for a common problem, bringing life – and light – to the signs and displays at most businesses.
Better yet, they are easy to customize, so once you decide to use LED light boxes to illuminate your visuals, you can let your imagination run wild. If you can dream it up, an experienced manufacturer can build it. You'll get a high-impact display that isn't just distinctive and unique to your business, but also energy-efficient, user-friendly and cost-effective.
Because of their versatility, LED light boxes are an excellent choice for virtually any business or public venue to display posters, ads or messages in high-traffic areas:
Traditional retail stores

Corporate offices

Lobbies and waiting rooms

Trade shows or other off-site exhibits

Large environments such as airports, transit centers, exhibition halls

Restaurants and bars

Hotels
You can use light boxes in place of traditional signage, to build brand awareness as well as promote merchandise. They can display static images, or you can use them with moving images or scrolling text.
LED light boxes come in a wide variety of styles.
Snap-front or flip-front

Magnetic front

Curved or flat surface

Frameless edge

Edge-lit

Backlit

Locking doors to prevent vandalism or theft
LED light boxes can be wall-mounted, hung by chains from the ceiling or in windows, or free-standing. They can be mounted vertically or horizontally, and they can be custom-designed in virtually any size or dimensions – for a kiosk, a single merchandise display, where visibility and readability from a distance are required, or to fit difficult spaces such as high wall installations. The slimmest profile is less than an inch thick.
With plug-in or internal power supply options, they can be portable or permanently installed. Use free-standing frames to change up the look of your window displays – replacing mannequins or creating a wall mural – or to draw attention to special merchandise. You can even use light boxes to set off separate spaces within your store.
Why choose LED light boxes?
They attract attention even in busy environments. They complement any store design or décor and you can adjust the light intensity to match the ambiance of your interior. You can use them indoors or outside.
They're convenient – easy to install, and you can change graphics without removing the panel from the wall, typically in about five minutes.
They're energy-efficient. LED lights provide bright, even illumination that's easily visible during daylight. Initial cost is higher than for traditional light boxes, but total cost of ownership can be much lower because LED lights last several times longer and use far less energy than traditional light panels. They produce a minimal amount of heat, and they're glare-free.
There are no light bulbs or ballasts to buy and replace. Replacing fluorescent light bulbs is expensive, time-consuming and generally a hassle, especially when the light box is very large. And you'll have to do it every couple of years. With LED, the only thing you'll have to change is your graphics, so you can focus on serving customers and increasing sales.
What's the latest, hottest trend in LED light boxes?
3D. These products use specially-generated 3D graphics and multiple lenses to project a halographic image. Your shoppers will feel as if they can simply reach out and touch what they see, no 3D glasses required.
So get creative with LED light boxes. If you can dream it up, Palmer Retail Solutions can fabricate it exactly to your specs. "We stock several sizes, and we can make any size," notes Jim Palmer. Need help dreaming up the right solution? His crew is full of great ideas, too.

Palmer Retail Solutions strives to offer our clients the absolute best combination of innovation, quality, service, and value for our diversified custom store fixtures and merchandising displays. For more information about our designs, retail fixtures, cash wraps, kiosks, or point of purchase displays, visit our website at: http://www.palmerretailsolutions.com.