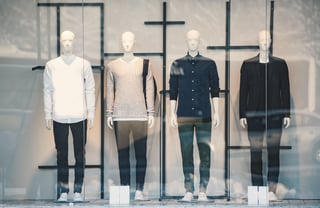 Imagine a prospective shopper entering your store. The first thing they see is a phalanx of retail fixtures stacked high with merchandise. Yikes! Even if your products are tempting, your presentation is overwhelming. Prospects can't wait to leave. While this is an extreme scenario, using the right retail store fixtures can make all the difference between enticing shoppers to come in and browse – or turning them away at the door.
The first thing customers want to see is an overview. What kind of store is this? What types of merchandise do you have to offer? Giving them that comprehensive panorama first enables them to see how your store is organized. That sets the stage for step two – attracting their more specific interest in your merchandise on display.
Psychology of Floor and Wall Fixtures
The right store fixtures, strategically placed, create immediate visual interest. From there, the floor and wall fixtures you choose – and how you arrange them – invite shoppers to explore further.
Floor fixtures create a framework to show off merchandise, and they literally create pathways for your customer to follow.
Wall fixtures provide background in addition to housing items for sale.
Creating merchandise "scenes" or categories helps your customer focus, pulling their eye from the broad panorama toward middle distance displays. That introduces the element of choice, guiding your customer's attention – and their feet – farther into the store and encouraging browsing. As they move around your fixtures, they are able to zoom in even further on individual items on display.
Match Layout to Merchandise
While the right layout can direct customer flow, different types of merchandise invite different types of customer interaction. So the fixtures you choose and how you organize your store depends on what you sell:
Grocery and similar stores use a grid layout – products lining the walls and lengthy rows of shelving that create multiple parallel aisles.
Loop layout takes shoppers in a more-or-less circular path from the entrance through the store and back to the entrance/exit. There is a single aisle, off which there may be short display spurs.
Spine layout has a single central aisle, with side aisles leading to distinct merchandise sections.
Smaller retailers typically prefer the less structured free-flowing layout, which allows customers to find their own way (led subtly by fixture groupings, specific merchandise displays and signage). Any small retailer can learn a lot from this before-and-after case study.
Fine Tuning
So you've chosen the right retail fixtures and designed an enticing layout. How do you know it's working? Whether you're a major retailer or a tiny boutique, it's important to track your customer flow in order to understand how well your arrangement is performing. Analyze information such as total number of visitors and which areas of your store are visited most and least frequently.
Armed with factual data, you can see what's working and which fixtures or layout details need to be modified to improve sales.
Palmer Retail Solutions strives to offer our clients the absolute best combination of innovation, quality, service, and value for our diversified custom store fixtures and merchandising displays. For more information about our designs, retail fixtures, cash wraps, kiosks, or point of purchase displays, visit our website at: http://www.palmerretailsolutions.com.