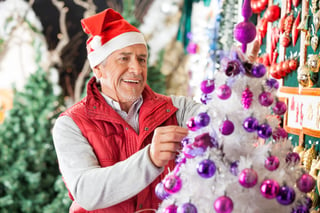 The months leading up to the holidays are busy for retailers and shoppers. While your customers are hunting for gifts (along with treats and necessities for themselves), you want to grab their attention with enticing end cap displays. But what types of displays should you feature? Think both functional and fun to help solve practical needs as well as inspire impulse buys.
Here are some examples of holiday merchandise perfectly suited to creating irresistible end cap displays that will sell, sell, sell.
Examples of Holiday Merchandise
Pet Gifts
Pets are big business, and every pet parent knows why! Fuel the need to pamper with holiday-themed toys, treats, clothing, collars or bandanas, catnip, etc. Add a fluffy stuffed dog and cat as props.
Host(ess) Gifts
What would you love to receive as a little thank-you if you were hosting family and/or friends for the holidays? Display wines (especially sparklers such as champagne), fragrant candles or potpourri, fancy crackers and cheese, cookies or chocolate truffles in pretty tins, all of which make wonderful host(ess) gifts.
Entertaining Necessities
The holidays are about getting together with family and friends. And every host(ess) wants their home to look inviting and festive. Display decorative centerpieces, holiday-themed serving trays/bowls or towels, or colorful candles and candle holders, maybe with some "giftable" silver candle snuffers. Customers will be drawn to the holiday spirit.
Warm Drink Fixin's
Offer a selection of fancy hot chocolate mixes, marshmallows, and peppermint sticks or jugs of apple cider and mulling spices, along with cute mugs. Decorate with fresh apples and wrapped candies. Or focus on the holiday toast with a display of decorative coolers for white wine or champagne and a selection of festive wine glasses or flutes.
Cold-Weather Accessories
Remind your customers to bundle up with a display of wool scarves, leather or fleece gloves, hats, and earmuffs. Or do an entire display of warm socks and slippers. Add a bin of windshield scrapers as a practical visual surprise.
Gift Wrapping
Shoppers will thank you for pulling it all together for them! Include wrapping paper, tape, scissors, gift bags, tissue paper, and — yes! — batteries in the most popular sizes.
Seasonal Decorations
For home or tree, we never seem to have enough decorations around the holidays. Stringed lights, menorahs, ornaments, tree toppers, tinsel, garland, or stacks of season-specific throw pillows will all be popular.
Gifts for Him
Target customers who may be shopping for a brother, boyfriend, husband, father, uncle, or grandfather. Create an end cap with gifts just for him. Think hand tools, wallets, craft beer, boxers, cologne, car care gift baskets, and just-for-guys hand lotions.
Gifts for Her
The holiday season is a great time for family and friends to show the women in their life how much they are loved and appreciated. Entice shoppers browsing for their sister, girlfriend, wife, mother, aunt, or grandmother with scented lotions, salon-style skin care products, perfumes, and party-perfect clutch purses.
Holiday Meals
If your store is a grocery or deli, make dinner easy for those hosting guests by selling ingredients for traditional meals all in one location. Include turkey, ham, cranberries, potatoes, gravy, buns, green beans or other fresh veggies, canned pumpkin, fancy pickles, etc. Note: You can display non-perishables above or next to the cooler.
Tips for Creating Successful End Caps
Not only is it crucial to display items that will sell, but it's important to create eye-catching displays that serve your business well. Here are some tips for creating successful end caps.
Pack your end caps with an abundance of smaller items instead of large, bulky things that will make it impossible to keep the display properly stocked when you're busy.
Decorate your displays or feature merchandise in holiday colors — red, green, white, blue, gold, silver.
Include some pre-wrapped items to give harried shoppers one more time-saving reason to buy.
Show off your featured, full-price merchandise. Shoppers are looking for that something special, and if you have it, flaunt it!
As buying time begins to run short, create an "unbelievable bargains" display to showcase (and offload) slow sellers. Or package those poky items with related strong sellers for a "buy this, get that" display.
If you choose holiday merchandise that is functional, festive, or fun, your end cap displays will light up your holiday sales. So, take some time to think about your products and how you can package them to appear most enticing to your customers. You'll make their holiday shopping easier and increase your bottom line.
Palmer Retail Solutions strives to offer our clients the absolute best combination of innovation, quality, service, and value for our diversified custom store fixtures and merchandising displays. For more information about our designs, retail fixtures, cash wraps, kiosks, or point of purchase displays, visit our website at: http://www.palmerretailsolutions.com.