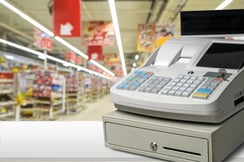 Retailers know that impulse buying is bigger than ever, year round. Normally we think of impulse items as opportunities to catch the shopper's eye with merchandise they were not even thinking about. But during the year-end holidays, shoppers are deliberately looking for inspiration as well as great products and deals throughout your store. Retail sales tips for this season wouldn't be complete without a reminder to feed your customer's impulsive side. So, here are 10 easy ways to boost your sales for the holidays with point of purchase displays.
Make your store inviting and the shopping easy. Use signage and lighting to point the way to different products and special deals, and place everything within easy reach. Provide carts or baskets.
Set the stage (and the mood) for top-selling POP displays by transforming your fixtures into seasonal showcases. Arrange them so displays are visible from 270 to 360 degrees. Use temporary backdrops or coverings to add seasonal color. Signage and staging that emphasize visibility boost sales.
Remember shoppers are buying for themselves, too, even if they're doing it subconsciously. The right display can turn an appealing gift "find" into a better-get-one-for-me-too decision.
Create "speed bump" POP displays of featured items, strategically placing them around the store as well as on the main pathway to your checkout counter.
Fill baskets or bins with smaller items — either lots of a single popular item or an assortment of similar items. Put them relatively near the checkout area, to add visual excitement and more grab-and-go opportunities for shoppers waiting in line.
Customers are looking for deals, but don't just discount merchandise, give them an incentive to buy more with bundling. BOGO offers can help move slowpoke items (especially if you put them in a snappy end-cap display). Offer "buy two and save $x, buy three and save $y" deals.
Combine complementary merchandise and even impulse-type accessories and add-ons in displays. Consider package pricing – shoppers think they're getting a great deal plus they won't have to hunt down accessories or the perfect sweater to go with that pair of slacks.
Offer free samples to tempt shoppers with tastes, smells, and touch. Self-serve testers work great. If you have room, live sampling lets your salesperson talk up the product and interact with customers.
People love gift wrapped presents, so pre-wrap some popular items — to spice up displays and add convenience.
Don't short-change your cash wrap. You'll want plenty of impulse goodies around this location. What's most important? Gift cards. These hot sellers earn you revenue now and also later, when the recipient shows up to shop. Consider bundling pricing to move these even faster.
Retail sales tips don't stop with the holidays. Boosting sales is an ongoing effort. Your cash wrap may be the final POP display in your store, but you can make it the beginning of a long and loyal customer relationship. Get their email address, with the promise of exclusive future tips and deals that will bring them back again and again.
Palmer Retail Solutions strives to offer our clients the absolute best combination of innovation, quality, service, and value for our diversified custom store fixtures and merchandising displays. For more information about our designs, retail fixtures, cash wraps, kiosks, or point of purchase displays, visit our website at: http://www.palmerretailsolutions.com.