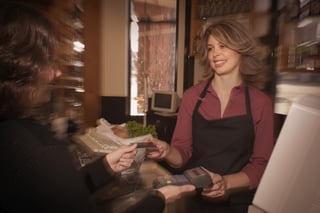 A lot of thought and work goes into successful retailing. It all comes together at the point of purchase – when your customer decides to pick up an item and put it in their basket. Point of purchase displays (or POP displays) have become an increasingly important merchandising element. They are often more cost-effective than traditional promotions or advertising, they offer the kind of self-service and convenience shoppers now expect, and they cater to the growing trend toward impulse buying – so choosing the right merchandise to highlight in your point of purchase displays is important.
Retailers and vendors are working more closely than ever to ensure maximum visibility, promotion and resulting sales, by creating point of purchase displays that are custom-tailored for the specific store, merchandise and display location within the store. Although there are many factors that go into producing a top-performing POP display, choosing the right merchandise is certainly a priority.
POP Displays are Widely Adaptable
Fortunately, point of purchase displays are ideal for highlighting a wide range of products. Keeping these tips in mind will help you make sales-building choices:
Highlight advertised products.
Increase sales of everyday merchandise by offering grab-and-go simplicity for busy customers.
Offer items such as magazines or candy that are usually impulse purchases.
Promote accessories that can be displayed with or near the "parent" product, such as cell phones.
Back up your carefully selected merchandise with a fully sensory display. With some products, demonstrating for shoppers how they work or what sets them apart can significantly increase sales. "Product glorifier" displays quickly and clearly explain these advantages, drawing shopper attention and allowing them to see products outside their packaging or confirm for themselves specific product claims. (It's waterproof? Display one submerged in water.)
Interactive displays make shopping more convenient by enabling shoppers to find information about products or try them out on their own. Merchandise such as electronics practically demand customer engagement, and security tethers or related devices provide a far more satisfying hands-on experience that helps shoppers move toward a final buying decision.
Bold graphics and signage further enhance your display's ability to grab attention and educate customers. They also provide additional branding that encourages sales right now and plants the seed for future sales.
Think like your customer. Well-designed POP displays generate plenty of visual impact on their own, but stocking them with merchandise that is most appealing to your store's clientele will produce the most sales. And every aspect of your marketing will benefit from knowing as much as possible about your customers – emotional triggers, lifestyle desires and preferences, etc. that tell you more than simple demographics.
When you understand what motivates your shoppers to browse and buy, you can zero-in on those factors to create irresistible point of purchase displays.
Palmer Retail Solutions strives to offer our clients the absolute best combination of innovation, quality, service, and value for our diversified custom store fixtures and merchandising displays. For more information about our designs, store fixtures, cash wraps, kiosks, or point of purchase displays, visit our website at: http://www.palmerretailsolutions.com.