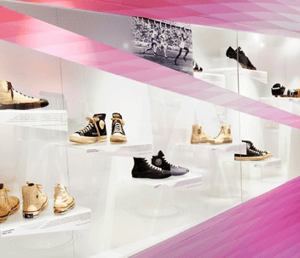 Store fixtures don't just hold merchandise. If that was their only role, every store would look like a warehouse. Instead, well-chosen store fixtures solve physical challenges within your store, address specific shopper needs, and create opportunities, all of which enhance customer experience. How?
1. Consistent branding
Store fixtures reveal and reinforce your store's unique personality. Use branded colors and themes along with materials that fit your image. You can even incorporate your logo right into some fixtures.
2. An inviting environment
Curves feel smoother and lead the eye more invitingly than sharp lines, which is why store fixture designs now feature more graceful shapes. Bow-front, round, or gently-curved display cases help guide customers effortlessly throughout your store.
Comfort level is critical because comfortable shoppers linger longer, explore your merchandise in deeper detail, and buy more. A comfortable environment combines ambiance — your store's intangible look and feel — with a layout that allows for movement without sacrificing personal space. If your store looks over-crowded or customers cannot browse without bumping into another person, they will leave.
The element of surprise keeps customers interested. Portable fixtures, modular components, and clever design details make the most of vertical space and provide versatility to change things up now and then. Don't change too much or too often, though, or shoppers will be confused instead of intrigued.
3. Convenient navigation
Entering shoppers want to easily get their bearings to find specific items on their list or decide where to start browsing. Make it simple to identify where items are found in your store.
4. Right product, right fixture
Counter-top displays and endcaps help shoppers zero in on featured items, seasonal groupings, or special promotions. Show customers how to wear or use items with mannequins, a table set for dinner, a kayak in a "demo river," or a putting green.
5. Creative innovation
Tech-forward fixtures engage customers. Stand-alone kiosks with touchscreens enable them to compare products, choose components to custom-tailor products, watch a demo video, or even check out and pay. Some stores are using technology to provide a multi-channel, in-store experience with displays that allow customers to try on garments and see color swatches in person, then order their choice online.
6. Lighting brightens in more ways than one
It can set the overall mood, highlight displays or individual items, decorate shelving, draw the eye (and the customer) around your store. Get creative, with motion-activated interior lights inside display cases or strategically placed back-lit displays.
7. Signage spreads the word
Signs are fixtures that direct or beckon shoppers, inform them about promotions or sales, and educate them about products and their benefits.
8. Just one more thing
Fixtures that present impulse items solve two types of customer "problems:"
"Oh, I totally forgot to get that!"

— batteries or lip balm, for example.
"Wow, how cool!"

— that smile of discovery when they spy something fun or a tasty sample.
Whether it's that last-minute reminder or an introduction to something new and easily affordable, you've provided a much-appreciated finishing touch for that customer's visit.
Now it's up to you
Shoppers know what they want these days, and they're tough critics. With imaginative-yet-practical store fixtures, you will impress them in multiple ways. So, maybe it's time to re-examine your store to see where you can improve. Custom design can help you achieve exactly the vision you have in mind.
A store that looks inviting, displays tempting merchandise in interesting ways, and is easy to browse is well on its way to guaranteeing an excellent customer experience.