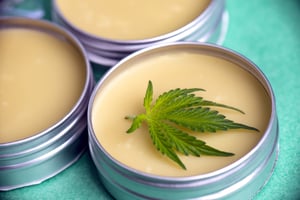 Merchandising in a convenience store calls for superior creativity because there are so many products competing for attention in a small footprint. With customers clamoring for CBD products, you must get them into play, but CBD brings even greater challenges. The products are mostly small, they have high value (both in terms of cost to the customer and profit margin for you), and sales are age-restricted. On top of that, some customers are familiar with the products and are there to buy, while some are in exploration mode and want to try something small.
Fortunately, we have an awful lot of experience with convenience store displays, so here are some important best practices that can help your CBD displays stand out from all of that in-store competition.
How can you strategically display CBD products to maximize sales?
There are dozens of SKUs in categories from health and wellness to beauty and skincare to pet-specific potions. They're packaged as oils, creams and lotions, patches, sprays, and consumables. In a recent survey, 88% of convenience store customers said they want CBD products grouped all together in a special CBD section so they don't have to hunt through the store to find what they need.
For now, most C-stores are avoiding self-serve products in favor of more manageable checkout counter displays. But space is at a premium here, so grab-and-go or single-dose products can be especially valuable as impulse items.
You could order up some inexpensive countertop displays, pre-printed with whatever images and text you want, etc. Cardboard is lightweight, but it's prone to damage so your display unit will look less-than-appealing in no time. For large display cases, glass is a great option because it secures and protects products but still gives them maximum visibility from any angle.
Acrylic is the better choice, for all your CBD displays
Acrylic, or polycarbonate, is lightweight, far stronger than glass, scratch- and smudge-resistant, and extremely versatile. It comes in colors, can be branded with text and/or images, and it's malleable when heated so you can literally think outside the standard boxy shape to create eye-catching, practical displays:
Clear front display cases with clear countertops
Racks
Shelves
Tiers
All-in-one product holder with info
Free-standing with 360o visibility/access
Locks available for almost any display unit
Here at Palmer Retail solutions, we've been helping retailers and other businesses design and build acrylic display fixtures of every imaginable size and shape for three decades. We know acrylic, we understand the special circumstances of C-stores, and we know what sells products. For example:
A well-designed display unit can keep small items corralled and tidy while giving them a big visual presence all without wasting precious front counter space. Check out this Hempurity example with rear access that discourages theft but makes it easy for the cashier to retrieve products for the customer.
Wall-mounted display units are space-savers, too. Placing them at eye level behind the checkout counter gives customers a chance to see and request products.
Design your display to look like a mini-grow house, complete with LED grow lights. LEDs are perfect to highlight displays and illuminate products. They are bright and eye-catching, but they burn cool and are cost-efficient.
Create a tall, free-standing display that shows off your CBD options – choose a rotating model for easy customer viewing and space conservation. Add swing out, sliding or lift-up doors for access, or add signage that says "pick me up at checkout." (In this case, be sure to prominently display an example of each product on your counter as a reminder, with your back-up stock stored below or behind the counter for security.)
The opportunity is huge for C-stores that get it right
The CBD market is projected to increase from its current $1.3 billion to an astounding $22 billion by 2022. With that kind of exponential growth on tap, C-stores can cash in by offering more of the products now hitting the shelves at grocery and drug stores. But there is no way to display this expanded inventory at the front counter. You will have to create a special, branded CBD section, or you'll have to distribute products in their appropriate category sections.
Either way, at this point, virtually any type of display fixture could come into play, along with related signage. Knowing best practices for merchandising CBD and knowing what standard and custom display options are available enables forward-thinking store owners/managers to plan ahead and get the jump on the competition.