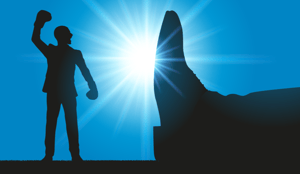 Ever heard the story about David and Goliath? In its simplest form, David was the underdog who fought and defeated Goliath, who was a giant and a champion. In a similar fashion, small businesses must compete with big box stores.
It's no surprise that big box retailers attract more traffic than small stores, but shopping "holidays" such as Small Business Saturday (the day after Black Friday) are highlighting the benefits of shopping small. So, how can your small business get in on the action to compete with big box stores?
Don't Try To Be a Box Store In Miniature
Whether they have a greeter at the door or not, big box stores are impersonal. They are designed to draw shoppers looking for lots of different things, at low prices — shoppers who just want to get in, get their products, and get out. No one goes there for the experience. But that's exactly why people do shop at small retail stores.
You can give customers a completely different, personalized, and enjoyable experience. Welcome shoppers with smiles and a friendly hello. Hire knowledgeable, helpful salespeople. Create browse-worthy displays, and space to try out or try on your merchandise. Interaction with humans and products is what allows you to successfully compete with big box retailers.
But that's not all.
Specialization Is Key
Embrace the fact that you don't have room (or the desire) to be all things to all shoppers. Your business is called specialty retail for one great reason: you can be entirely unique. Box stores offer tons of stuff but not much selection of any product type. You can focus on a product niche and go deep with your selection. More sizes, colors, styles — interesting (or customized) options box stores can't handle.
Your goal — and opportunity — is to help customers find ways to satisfy their desire for individuality. That comes from offering unusual, interesting merchandise, but it also comes from giving shoppers room to interact with your merchandise. Table or floor space to play with the toys. Displays that encourage customers to pick up and handle items. Well-appointed and well-lit fitting rooms.
Bring People In To Do More Than Shop
The best experiences are multi-faceted. Hosting events such as new product introductions, how-to demonstrations or workshops, pet adoption days, and fundraisers for a favorite local charity all increase awareness of your store and connect you with the community.
Strengthen that connection by taking your brand outside your four walls with activities such as sidewalk or parking lot sales and festival booths. The Shop Local movement is all about you, so do everything you can to be seen and to promote your fellow small, local businesses.
Stay In Touch
Customer loyalty is critical in retail. So, make sure your customers know how special they are to you. Upbeat (but brief) email newsletters, rewards programs, surprise discounts, exclusive invitations or offers, etc. all hit the spot with customers. Use social media to push notifications about flash sales, conduct quick surveys, and hold contests that appeal to existing and potential customers.
Yes, big box stores can do all these things, too. But the reality is that, like all massive ships, they can't turn on a dime. You not only have all the same online resources at your disposal, but you can also use them in far more timely and personalized ways to build stronger relationships with customers.
Optimize Your Website
No store is too small for a quality online presence. The more people can learn about you from your website, the more likely they are to be enticed into your store. Even better, sell online with delivery or offer online order with in-store pickup. And, make sure it's ultra-easy to find your location and hours online.
Less Can Be So Much More
David was small but mighty, and in the end, he conquered the giant. You can do the same. You don't have to compete with big box retailers, you can outdo them with exceptional service and specialized shopping experiences.