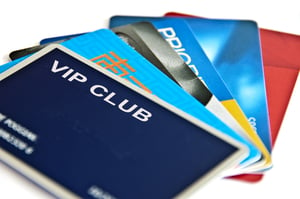 "No, thanks. I have enough cards in my wallet." is an all-too-common excuse customers use to avoid signing up for your loyalty program. Your goal is to strengthen customer relationships, but that card is getting in your way. Fortunately, technology is making loyalty cards obsolete.
Like everything else in retail, technology is driving fundamental change in loyalty programs — changes that benefit both customers and businesses. With technological advances, customers can join and enjoy their loyalty program benefits simply by providing their phone number or using an app — no card needed. But how does this change the landscape of your loyalty program?
Technology Streamlines the Process
Handing out cards made perfect sense when entire transactions were handled manually, in person. That physical card made customers feel special. But times have changed. We now shop online and in-store, even on-the-go using mobile devices. On the back end, retailers now rely on specialized technology and cloud computing to run operations — and to integrate those operations across all shopping channels.
Tech-savvy shoppers expect things to be easy and convenient, no matter how, when, or where they shop. If you expect them to love and use your loyalty program, it has to deliver that same experience. Technology makes that easy because it makes everything seamless. Simply provide the phone number you registered with, and the retailer can access your loyalty program account. Or save your information to your computer or phone and your loyalty points will be added automatically when you make a purchase.
Technology Personalizes Each Customer's Experience
Fully integrated technology allows you to capture and retain broad customer shopping and preference data. Sales associates can instantly know who the customer is and see their history across all channels. They can ask if the customer had a chance to wear that gorgeous new sweater they bought online. Or suggest an in-store purchase to complement the sweater. Or remind the customer they are getting close to their next rewards threshold.
New applications enable you to use "proximity" marketing, send targeted tweets or texts to shoppers about last-minute deals, and integrate with social media such as Facebook. New apps enable customers to interact with store displays, check in on the status of their rewards account, or check out without stepping up to a counter.
These options all boost loyalty by boosting customer experience. That's critical. It's no longer about giving "prizes" for spending X amount of money. Recent studies have shown that customers increasingly value a consistently good experience over price and item.
Technology Makes You a Smarter Retailer
Not only does technology better inform sales associates and help customers shop as they like, it helps you improve your business by delving into all that data you can gather. Studying buying trends and individual behaviors allows you to refine your own merchandise-buying decisions, marketing campaigns, even the way you arrange your store.
Of course, you can refine your loyalty program, too, based on customer response. Retailers often complain that customers don't use their loyalty rewards, rendering the program worthless. But you can be the brand with valuable rewards because you can craft a program that flexes according to user preferences.
Remember that loyalty is built on trust as much as rewards. Customers are more concerned than ever about protecting their personal data. You must implement the latest security measures, but also tell customers you have their back here. It's not only a good deal to shop with you, it's safe.
You don't have to get rid of cards (although customers may rejoice!). But the longer you wait to implement the latest technologies, the more out-of-date your brand will appear and the less likely customers are to actually engage with your loyalty program.