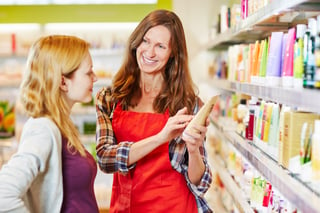 Point of purchase displays are the beating heart of your visual merchandising. They pump your store's lifeblood – happy shoppers – throughout your store. You use fixtures to establish the general layout, but it's your point of purchase displays that draw customer attention to featured, sale, and impulse merchandise.
Done right, POP displays boost your sales numbers by selling more and encouraging shoppers to spend more on each purchase.
Check out these numbers.
Studies of mass merchants and grocery stores reveal valuable insights any retailer can use:
82% of purchasing decisions are made in-store at mass merchants, 76% at grocery stores.
34% of shoppers don't use a shopping list.
62% of purchases are unplanned – 16% of those resulted when a display captured the shopper's attention.
These stats hold true regardless of the customer's age.
Customers are entering your store with an open mind! That's an open invitation for you to sell suggestively, and point of purchase displays are your #1 opportunity to do that.
POP displays help customers easily find what they're looking for, they give shoppers an overall understanding of your merchandise range, and they enticingly show off items customers hadn't considered buying. Attractive and helpful, they give your customers a more satisfying shopping experience. The longer shoppers linger, the more likely they are to buy — and buy more.
So how well are you using your point of purchase displays?
As a retailer, you know POP is important. But knowing these numbers should motivate you to re-examine whether you're using your displays to best advantage. You don't want to leave sales revenue on the table (or in your customers' wallets). What can you do to turbo-boost your POP?
Upsell customers. Display "good, better, best" items, so they can see what they'll get for just a bit more.
Cross-sell customers, by displaying groupings of related products – accessories with electronics, apparel outfits, ingredients needed for a seasonal recipe.
Rotate and refresh displays frequently – as often as your typical customer returns to your store, since previously-seen displays tend to become invisible to them.
Brand your displays to convey both value and trust, whether you're promoting your store brand or recognizable product brands you sell.
Appeal to the senses to encourage interaction, because 30% of shoppers who pick up an item buy it.
As vital as it is to select the right merchandise and location for POP displays, signage can make all the difference when it comes to boosting your sales numbers. Signage draws the eye across the store, it makes your shopper stop to look more closely and it educates them about products. In convenience stores, adding signage to POP displays can generate a "sales lift" of anywhere from 2.6% to 45.5%. Adding digital signage – video or touchscreens – influences 20% of shoppers to buy.
Finally, try out different types of offers (new products, discounts, bonus buys) and different types of point of purchase displays – end caps, floor stands, counter or table-top – and track response, then watch your sales numbers grow.
Palmer Retail Solutions strives to offer our clients the absolute best combination of innovation, quality, service, and value for our diversified custom store fixtures and merchandising displays. For more information about our designs, retail fixtures, cash wraps, kiosks, or point of purchase displays, visit our website at: http://www.palmerretailsolutions.com.