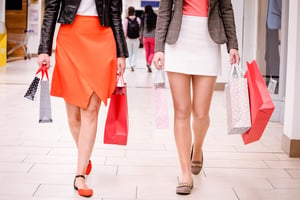 As a retailer, don't you just love it when customers buy more than they had intended? Impulse purchases account for a significant percentage of sales, in all types of retail stores. Brick and mortar stores benefit even more than online sites. By deliberately boosting your store's shoppability, you can trigger those all-important "must have that" impulses.
Not only that, the more "shoppable" your store, the happier customers will be with their total experience. They'll be back, and that bodes well for the future.
So what is shoppability?
It's a blend of tangible and intangible forces that come together to provide an in-store experience that is both helpful and enjoyable. A recent benchmarking study identified nine key factors that influence shoppability:
Relevance (desired products are in stock and competitively priced)
Transparency (store is well organized, products and prices are easily visible)
Lack of clutter
Store access
Store layout
Service
Assurance (unique value/benefits of items are clearly communicated in-store)
Surprise
Comfort
Why does your shoppability quotient matter?
The nine factors influence both planned and unplanned purchases. Relevance and convenience issues draw customers who are on a mission to buy. You have what they want – product availability, pricing, and service are all good. It's easy to shop your store, both getting there and navigating the aisles. These factors are must-haves for retail success.
Beyond that, though, assurance, surprise (coming across an unexpected-but-enticing item) and comfort (your atmosphere) are should-haves that inspire unplanned buying by making your store more shoppable.
Putting shoppability into play
Use ideas like these (or adapt them with your own twist) to increase unplanned buying:
Promote abstract (lifestyle) benefits of shopping your store or specific products.
Coordinate out-of-store and in-store marketing.
Use signage to direct shopper attention to likely impulse items. Red and yellow are hot, so to speak.
But don't rely on signage, put impulse items in can't miss locations. Your checkout counter/cash wrap is a definite, but the other "best" location? Adjacent to best-sellers or complementary merchandise.
Pick the right products. Impulse items should be small in size and price, so they are no-brainer additions to your customer's purchases. Novelty items and samples or trial sizes of new products are good choices. Deals sell, too – BOGO type discounts or "today only" exclusive offers.
Use technology to drive unplanned purchases. About a fifth of shoppers say they respond favorably to shopping apps, social media posts, and texts from a retailer.
But don't neglect the human touch. Associates trained to use suggesting selling techniques can give your impulse revenue a big boost.
Shoppability matters whether you're operating a mega-store, a boutique, or a kiosk. Your goal as a retailer is to create a perfect world, based on your customer base. And since planned and impulse purchases both contribute to your bottom line, it pays to pay attention to all nine shoppability factors.