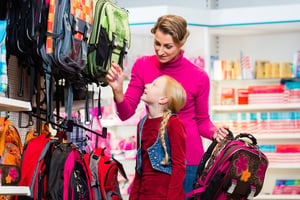 It's only mid-summer. Kids certainly aren't thinking about school, and your employees probably aren't, either. But retailers know that – mid-summer or not – many families are already shopping for school supplies and clothes. As management, you're prepared for this. You've planned ahead, and merchandise is already hitting your shelves. So how do you prepare your employees for the busy back to school season?
Give 'em the facts
Back to school (BTS) season is the second-most lucrative shopping season of the entire year. According to a Deloitte survey, 29 million American households spent about $27 billion last year to get their K-12th graders ready to return to the classroom. Most telling for your bottom line? The majority of those who started their shopping earlier spent more. Time to get busy.
Your salespeople need to be ready for the onslaught. When they understand that this is a make-or-break season for your store, they will know why it's so important to create positive shopping experiences for harried moms and dads.
Make it a team effort
Your employees may function as a well-oiled machine during most of the year, but you'll need part-time or temporary employees to make it through back to school season with smiles all around and a fat cash register. Training is critical. Not only do your regulars and part-timers need to be fully up-to-date on BTS merchandise, new people also need education about in-store policies and functional details such as how to use your POS system.
Training builds confidence to sell, especially when your floor staff have the authority to deal with most customer issues on their own. It also builds trust that everyone, new or not, has each other's back when things get crazy busy.
Get organized
Back to school season is no time to be hunting around in the stock room. Delays mean lost customers. And there's never a good time for a messy store, because clutter sends shoppers back out the door, too. Keep things where they belong, and tidy up as you go. Yes, you're really busy, but quick, small tasks go faster than waiting until things have gotten out of hand.
Say "thanks" frequently
Happy salespeople sell more. Consider creating sales contests or other incentives to encourage salespeople to keep up the good work. Make sure they're taking their allowed breaks. Bring in snacks, lunch, or other goodies to keep them going. And never forget to thank them each and every day for their great customer service attitude.
It's not easy dealing with parents and kids who may be at odds with one another over what constitutes "necessities" for back to school. Knowing they are appreciated may be the best motivation of all for your employees.
Reward everyone for a job well done
Phew! The kids are finally back in school and your store is settling back into the normal routine. Thanks to your outstanding preparation, your sales team did an excellent job, but, boy, are they exhausted. They certainly deserve a break, but before you let them take that time off, pull them in for a group debriefing. Include temps and part-timers, too. Discuss what went right and what went wrong, so you can be even better prepared for next year's back to school season. Then thank everyone yet again for all their hard work and consider bringing in a treat to let them know how much you appreciate their efforts.