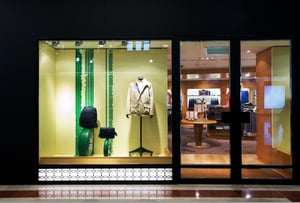 Whether it's on the street or in the middle of a mall, you want your storefront to stand out from your neighbors. Your prosperity depends on attracting customers, so your storefront design has to capture their attention and inspire them to visit. But, especially if you're a smaller face in the crowd, how do you make that happen? Follow these five tips to make sure your storefront captures customers' attention.
Use Creative Signage
Your store signs help people find your business, introduce you to prospective customers, and promote your shop, but your signage can be much more than a simple colored logo.
LED or electronic signs add extra zest and movement, something you can use in window displays as well as for your primary signage.
Storefront awnings can give your place an even more distinctive appearance, and in most cases, they can double as signage that's visible from multiple angles. That's a big benefit if you're located in a congested area.

No matter what kind of signage you use, look at it like a customer would. Check out the competition and use different colors to make sure your storefront stands out from the rest of the neighborhood or mall area.

Make Window Displays Interesting
Especially if your storefront is small, you can't afford to squander even one square inch. That means you have to create window displays that turn heads and drive foot traffic, as well. But that doesn't mean your displays should be stuffed with too much merchandise or decoration.
Remember that less is often more. Our eyes naturally look away from "visual clutter," so you'll draw far more attention with a cleanly designed, less "busy" display.

For most types of stores, pedestrians will be more interested if they can catch a glimpse of what's actually inside, not just your window display.
Pick Easy-to-Read Fonts
Whether it's on your signs or window displays, remember the reader. Some fonts are much easier to read than others, and since the goal is to attract new customers, make sure your message is easy to understand.
Use simple fonts without curly-cues (sans serif is the technical term) and bold, contrasting colors. Since readability is key, most letters should be bigger than you think. After all, why risk making a prospect squint or push their nose against your window just to read a price?
The colors you use on your storefront design should reflect your store's personality and reinforce your branding. Lighting is also critical because your storefront should sell for you 24 hours a day, every day.
And remember that the simple act of keeping the area in front of your shop clean and tidy tells people you care about quality. They may not overtly notice if things are perfect, but they will definitely notice dirty windows, fingerprints on the door, or trash near the front door.

Follow the Rules
Every mall, building owner, and municipality has set requirements regarding signage and other storefront elements. And there is likely somebody around to enforce them, so a design that breaks the rules won't be around very long. So, if you learn the rules before you begin your storefront design, you can save yourself the cost and heartache of having to start over later.

Palmer Retail Solutions strives to offer our clients the absolute best combination of innovation, quality, service, and value for our diversified custom store fixtures and merchandising displays. For more information about our designs, retail fixtures, cash wraps, kiosks, or point of purchase displays, visit our website at: http://www.palmerretailsolutions.com.