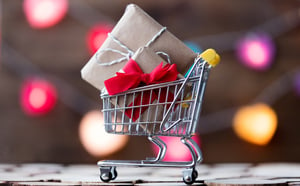 Valentine's Day is a wonderful holiday for many retailers. With last-minute shoppers and impulse (or guilt) purchases galore, there are so many selling opportunities. End caps are proven winners when it comes to retail merchandising because they naturally stand out. That makes them outstanding places to showcase your Valentine's Day merchandise!
This is the most impulsive holiday of the year. Use your end caps to capitalize on that by featuring items that are perfect for that special someone. But don't forget Valentine's Day gifts aren't always for a romantic partner, showcase merchandise customers can buy for friends, family, or themselves.
What will sell like hotcakes on
a Valentine's

end cap?
Valentine's Day is also our most sensual holiday, so make sure your end caps tempt multiple senses. Think fragrant aromas from chocolates and coffees to perfumes, lotions, and scented candles.
Use color for greatest impact. Filling an end cap with merchandise that's all one color creates a can't-miss visual. Traditional red or pink speaks for itself, but why not be more original if that would appeal more to your clientele? Or create a candy-colorful display with an array of sweaters, soaps, etc.
Offer items in a wide price range, but definitely feature high-end items. When love is in the air, customers often want to splurge.
Cross-sell related items in a single display — wines, wine glasses, and wine charms, or candles and candleholders, apparel or table-setting ensembles. Busy customers will buy more if they don't have to hunt down multiple items, and offering multiple items together also invokes the power of suggestion to boost sales.
You don't have to be a diamond store to promote jewelry and accessories for Valentine's Day. Necklaces, earrings, bracelets, and scarves all make great impulse or add-on items.
Don't forget men! Women want to spoil their guys, too. (Choose strategically, and your last-minute male customers may pick up treats for themselves.)
Nothing says "sold" like pre-wrapped merchandise, especially for harried or last-minute customers. Display popular items next to stacks or rows of grab-and-go wrapped ones, or tie items together with fancy red and white ribbon, and they'll fly off your end cap shelves. Display pre-assembled gift baskets in different sizes. Like smaller individually wrapped items, these say "beautiful and easy" to shoppers. Your end caps will look prettier and more alluring, and last-minute shoppers will love the pre-wrapped convenience.
Or create a build-your-own gift center. Put baskets with nesting material on lower shelves and display a variety of fragrances, bath salts, or other personal items — or chocolates, coffees, and teas — customers can use to fill them. Have pretty plastic wrap and ribbon ready at your checkout counter to add the finishing touch.
Stock a bowl of sweetheart roses at your cash wrap, and give one to each last-minute customer. Whether they pass it along to their Valentine (thankful that

you, at least, remembered flowers!) or keep it for themselves, you're sure to win a smile.
Give your end caps extra Valentine's verve!
These retail merchandising tips are sure sellers:
Create some displays that feature trendy or non-traditional goodies. Who says the love of your customer's life wouldn't rather receive apparel, sports gear, or auto parts instead of (or in addition to) the usual candy and flowers? You don't have to go crazy decorating for Valentine's Day or devote an extra-large amount of space to it, but it's a mistake to discount the opportunity to increase revenue, no matter what you sell.

Add specialty lighting — strands of twinkly LED lights or light-ropes, spotlights, etc. Well-positioned lights decorate and catch the eye. They also highlight entire end caps or specific items, giving them irresistible sparkle.

Breathe new life into slow-moving items by grouping them with popular items for last-last-minute sales.

Promote "there's still time" end cap merchandise by posting photos on Facebook and tweeting or emailing ideas to your followers and loyal customers.
Above all, keep those end caps well-stocked. You don't want to lose out on critical sales, and Valentine's-specific merchandise will be yesterday's news on February 15th.