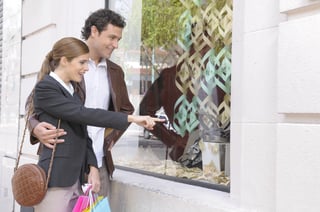 Some retailers may not think of window shoppers as prospective customers. But, if that were true, why would you put extra thought and attention to detail into create engaging window displays? Window shoppers are often interested in what you have to offer – that's why they're looking. So, how can you convert those window shoppers into customers? Here are 5 tips to help.
Determine What Attracted Them to Your Window
Our first nugget of advice is to identify what attracted them to your window in the first place. They could be:
Considering a purchase, but not right now.
Collecting product information on their way to making a buying decision.
Comparing shops to determine where to make the purchase, which is why your displays need to make a unique impression.
A loyal customer simply stopping to enjoy your display, thinking about what their next purchase may be.
Head-turning windows displays can draw attention, even from people who didn't know they were interested in what you sell.
Encourage Passersby to Take a Small Action
The design, lighting, and products displayed in your window are step one when trying to attract customers to your store. Step two is enticing them to step through the door through visual merchandising. To do so, you want to display tempting products near the front door. This can include new items, best-selling items, sale items. Once they set eyes on these great items right inside your door, they're more likely to come in and look around.
Allow Shoppers to Try the Products
Customers love to touch and try products before buying them. So, if your product can be touched, smelled, tasted, heard, or tried on, provide that opportunity to shoppers. Not only are they more likely to buy the item, but they're more confident in their purchase because you eliminated the risk of not liking it once they got home.
Create a Welcoming Environment
No, we don't mean put all your sales associates near the door to greet customers, explain current deals, and ask questions. That can be overwhelming. You want to create a welcoming environment that encourages shoppers to stay longer and look around.
Make sure your store is tidy and well organized.
Be thoughtful in selecting your store's soundtrack. What types of music does your target market listen to? Also, be mindful of the volume.
What does your store smell like? That's right, smell is a big deal when creating a welcoming environment. If you're not sure what scent fits your brand or target market, vanilla is a safe bet. But, don't overdo it. We don't need to smell your store from across the mall.
Hire quality employees. If they have knowledge and/or interest in what your company sells, even better!
Provide Info When Needed
Window shoppers are often entering your store to gather information about your products and may not be buying until a later date. If you present yourself as an expert and prove to be an invaluable resource of information when it comes to this product, the shopper is more likely to buy from you when the time comes.
If you put the time, energy, and thought into providing a great shopping experience, that person, who was once a window shopper, becomes a store browser and, ultimately, a loyal customer.
Palmer Retail Solutions strives to offer our clients the absolute best combination of innovation, quality, service, and value for our diversified custom store fixtures and merchandising displays. For more information about our designs, retail fixtures, cash wraps, kiosks, or point of purchase displays, visit our website at: http://www.palmerretailsolutions.com.