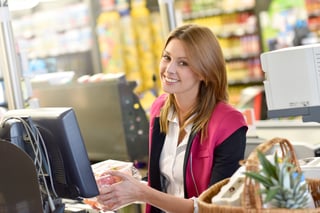 It's a work place. It's a display space. It's a branding element. It's a decoration. It's your cash wrap counter. Every retail store has at least one, though they can vary dramatically.
Size and shape depend on your store size and how you'll use the cash wrap. At a minimum, you need enough counter space for your cash register and plenty of room for customers to set their purchases and write a check.
Functionality matters, but why not make a statement?
Just because it has to be functional doesn't mean your cash wrap counter has to be boring. Let it tell your story, whether it's simple and sleek or outrageously entertaining. With nearly unlimited design and materials options, your cash wrap can easily be eye-catching. Consistent branding is crucial, though, so while offbeat is OK, off-theme is not.
These 10 ideas should get your creative juices flowing, to create a unique-to-you cash wrap counter:
Placement is crucial – not only for functionality but for psychological reasons. Use your cash wrap as a divider between two sections of your store, or place it up front to act as an "information center" that promotes staff-customer interaction.
Just like other store fixtures, cash wrap counters can be constructed from almost anything. Plastic laminate, polycarbonate, new or recycled wood, metal, real or faux stone, and found objects all add personality, so let them inspire you.
Turn your cash wrap into a focal-point display case for delectables from chocolates to jewelry.
Imaginative design can represent your brand and reinforce your store's ambiance, or you can literally incorporate your logo into your cash wrap.
Or use your brand's accent color as the color for your cash wrap to make it pop.
Nearby flooring has to withstand heavy foot traffic, but it can still ingeniously contribute to your unique look.
Get creative with lighting. You need overheads, downlights, and/or task lighting to illuminate work areas. But accent and decorative lighting add visual interest in ways that showcase your store's individual character. LED lights are particularly versatile here. Build them right into the façade of your cash wrap counter, to backlight a colorful translucent material or provide downlight accents.
Use colorful pendant lights or even a table lamp for a cozy feeling.
Follow the Sierra Club's lead, and use recycled wood beams as planters, separating the beams with LED ribbon lights.
Remember, the cash wrap is a critical customer service area. Don't overwhelm it with last-minute goodies you hope they'll buy, because that creates clutter instead of a comfortable place to finalize transactions. You want customers to leave on a relaxed, upbeat, and memorable note. Sephora maximizes impulse buys by using winding rows of travel-size merchandise to guide shoppers waiting in line to pay.
There is no end to what you can do to turn your cash wrap counter into a unique presence within your store. Whether you go all out or keep it simple, consider the functional necessities for your check-out counter, then breathe life into it with imaginative design and materials.
Palmer Retail Solutions strives to offer our clients the absolute best combination of innovation, quality, service, and value for our diversified custom store fixtures and merchandising displays. For more information about our designs, retail fixtures, cash wraps, kiosks, or point of purchase displays, visit our website at: http://www.palmerretailsolutions.com.