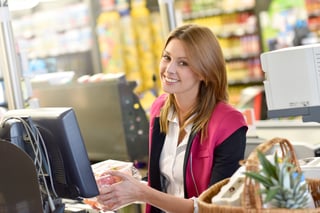 It's a work place. It's a display space. It's a branding element. It's a decoration. It's your cash wrap counter. Every retail store has at least one, though they can vary dramatically.
Size and shape depend on your store size and how you'll use the cash wrap. At a minimum, you need enough counter space for your cash register and plenty of room for customers to set their purchases and write a check.
Functionality matters, but why not make a statement?
Just because it has to be functional doesn't mean your cash wrap counter has to be boring. Let it tell your story, whether it's simple and sleek or outrageously entertaining. With nearly unlimited design and materials options, your cash wrap can easily be eye-catching. Consistent branding is crucial, though, so while offbeat is OK, off-theme is not.
These 10 ideas should get your creative juices flowing, to create a unique-to-you cash wrap counter:
Placement is crucial – not only for functionality but for psychological reasons. Use your cash wrap as a divider between two sections of your store, or place it up front to act as an "information center" that promotes staff-customer interaction. Also, the vast majority of customers automatically turn right once they're inside, then browse in a generally counter-clockwise circle. Therefore, cash wraps should be located to the left of the entrance, as a natural final stop in your customer's journey.
Just like other store fixtures, cash wrap counters can be constructed from almost anything. Plastic laminate, polycarbonate, new or recycled wood, metal, real or faux stone, and found objects all add personality, so let them inspire you.
Turn your cash wrap into a focal-point display case for delectables from chocolates to jewelry.
Imaginative design can represent your brand and reinforce your store's ambiance, or you can literally incorporate your logo into your cash wrap.
Or use your brand's accent color as the color for your cash wrap to make it pop.
Nearby flooring has to withstand heavy foot traffic, but it can still ingeniously contribute to your unique look. And don't forget to provide enough floor space at the front to accommodate paying customers without clogging aisles or blocking lines of sight for those still shopping. Shoppers need maximum visibility in order to spot the merchandise they simply must inspect up close, and you need maximum visibility for security purposes and to spot customers who may need assistance.
Get creative with lighting. You need overheads, downlights, and/or task lighting to illuminate work areas. But accent and decorative lighting add visual interest in ways that showcase your store's individual character. LED lights are particularly versatile here. Build them right into the façade of your cash wrap counter, to backlight a colorful translucent material or provide downlight accents.
Use colorful pendant lights or even a table lamp for a cozy feeling.
Follow the Sierra Club's lead, and use recycled wood beams as planters, separating the beams with LED ribbon lights.
Remember, the cash wrap is a critical customer service area. Don't overwhelm it with last-minute goodies you hope they'll buy, because that creates clutter instead of a comfortable place to finalize transactions. You want customers to leave on a relaxed, upbeat, and memorable note. Sephora maximizes impulse buys by using winding rows of travel-size merchandise to guide shoppers waiting in line to pay.
Size does matter - Larger stores may consistently need multiple cash registers and more counter space, but even tiny boutiques can be very busy at certain times. Consider how your cash wrap will accommodate efficient checkouts when shopping is brisk. You don't want to lose sales just because wait times are excessive (or it looks like they might be).
What shape do you want?
Cash wraps can be designed in three basic configurations:
A single countertop or cabinet surface, placed parallel or perpendicular to the wall or as a free-standing "island."
A two-part unit – one section parallel to the wall and another free-standing unit placed in front, facing the customer.
Three-part design that encloses the two-part unit on one side, creating horseshoe.
Two or three-sided configurations are best if you need more than one payment station, and a U-shape improves security by restricting access behind the counter.
You can build your cash wrap counter as a simple, level countertop or add a desk-type section, but you'll also want a cabinet that contains drawers and shelving – with doors — to keep extra supplies out of sight. Recessed top shelves are useful for hiding electrical cords, and adjustable shelves are handy for holding hangers, returned merchandise or wrapping supplies and bags.
How much space do you need?
What needs to happen in this area? You need enough room on the cash counter to hold at least your cash register or computer and your customer's purchases. Allow at least 2-1/2 to 3 feet of counter length for customers. If there isn't enough room for all their selections, they may feel as if they're purchasing too much, whereas larger space may subtly tell them there's room to buy more.
It's smart to include some space to display one or two small impulse-buy items and sign-up cards for your email list. You may also want to incorporate a small digital sign or kiosk, so customers can watch a short promotional video or new merchandise photos while you're completing their transaction.
Do you sell merchandise that needs to be wrapped as well as bagged? You'll need extra space for that – do not use the same space you provide for customers to set their items down. Counters are usually 30"-36" deep, and cash wraps designed with parallel counters should provide at least three feet of space between them, so employees have room to move around, bend over to access cabinets, etc. This minimum distance also meets Americans with Disabilities Act standards.
Improving seasonal cash wrap efficiency.
If you require expanded checkout capability at certain times, do not simply add temporary cash registers in additional random locations around your store. That makes it very easy for customers to miss entire sections of merchandise. If they see something they want on their way out after they've paid, they will be frustrated and you'll have lost an additional sale. You want them to see everything you have to offer.
Multiple checkout areas can also confuse your customers – should they go here, or over there? Ask your retail display manufacturer to design a custom system that builds in flexibility to expand and contract as necessary.
There is no end to what you can do to turn your cash wrap counter into a unique presence within your store. Whether you go all out or keep it simple, consider the functional necessities for your check-out counter, then breathe life into it with imaginative design and materials.
Palmer Retail Solutions strives to offer our clients the absolute best combination of innovation, quality, service, and value for our diversified custom store fixtures and merchandising displays. For more information about our designs, retail fixtures, cash wraps, kiosks, or point of purchase displays, visit our website at: http://www.palmerretailsolutions.com.